Catalogs

>

TURis Long Resectoscope
Catalog excerpts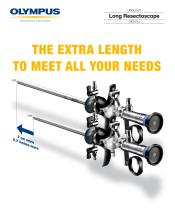 OLYMPUS LONG OES PRO RESECTOSCOPE - THE SHORT SOLUTION TO A LONG PROBLEM The long resectoscope was developed for the resection of bladder tumors as well as for interventions in patients with long urethras and semi-flexible penile implants. The modular design of the long resectoscope allows for 24 Fr. single flow, or 27 Fr. continuous Two different, specially adapted outer sheaths allow for tumor resection in the bladder The long resectoscope with its continuous flow system provides improved visualization under low pressure conditions.
Open the catalog to page 2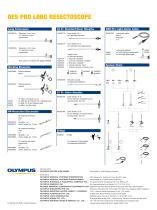 OES Pro Long Resectoscope Long Telescopes Inner sheath, 24 Fr., incl. standard obturator Obturator, optical, for telescope WA20021A Telescope, 4 mm, long, 12° direction of view, autoclavable Telescope, 4 mm, long, 70° direction of view, autoclavable To be used in connection with bridge A22093A Working element, active Irrigation port, for resection sheaths, 1 stopcock, rotatable 1 Luer-lock connector, rotatable 2 stopcocks, rotatable 1 vertical stopcock, fixed 1 vertical Luer-lock connector, fixed A22051A A22054A Light-guide adapter, for OES 4000 light-guide cable for Wolf light-guide cable...
Open the catalog to page 3
All Olympus Medical Europa catalogs and technical brochures

Archived catalogs

Compare up to 10 products