Catalogs

>

OMNICELL

>

Anywhere RN
Catalog excerpts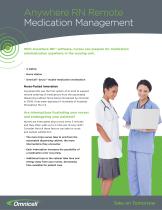 Anywhere RN Remote Medication Management With Anywhere RN™ software, nurses can prepare for medication administration anywhere in the nursing unit. • A laptop • Nurse station • Omnicell® Savvy™ mobile medication workstation Nurse-Tested Innovation Anywhere RN was the first system of its kind to support remote ordering of medications from the automated dispensing cabinet. Since being introduced by Omnicell in 2009, it has been deployed in hundreds of hospitals throughout the U.S. Are interruptions frustrating your nurses and endangering your patients? Nurses are interrupted about once every 5 minutes1 and they often walk up to 5 miles per 12-hour shift.2 Consider the toll these factors can take on nurse and patient satisfaction: • The more trips nurses take to and from the automated dispensing cabinet, the more interruptions they encounter. • Each interruption increases the possibility of a medication error occurring. • Additional trips to the cabinet take time and energy away from your nurses, decreasing time available for patient care.
Open the catalog to page 1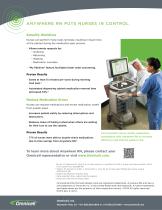 Anywhere RN Puts Nurses in Control Simplify Workflow Nurses can perform many tasks remotely, resulting in fewer lines at the cabinet during the medication pass process. • Allows remote requests for: – Ordering – Returning – Wasting – Medication overrides • "My Patients" feature facilitates faster order processing. Proven Results • Saved at least 15 minutes per nurse during morning med pass.3 • Automated dispensing cabinet medication removal time decreased 33%.4 Reduce Medication Errors Nurses can request medications and review medication orders from quieter areas. • Increases patient safety...
Open the catalog to page 2
All OMNICELL catalogs and technical brochures

Archived catalogs
Compare up to 10 products