Catalogs

>

OMNICELL

>

SinglePointe
Catalog excerpts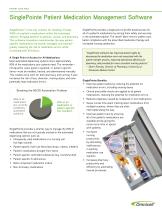 PATIENT CARE AREA SinglePointe Patient Medication Management Software SinglePointe™ is the only solution for handling virtually 100% of a patient's medications within the automated cabinet—bringing benefits to patients, nurses, and pharmacy. This software innovation revolutionizes the way patientspecific medications are stored, managed, and tracked— greatly reducing the risk of medication errors while increasing staff efficiency. A Single Point of Access for All Medications Most automated dispensing systems store approximately 80% of the medications your patients need. The remainder— infrequently used, patient-supplied, or patient-specific items—must be handled, tracked, and administered manually. This creates extra work for both pharmacy and nursing. It also increases the risk of loss, diversion, missing doses, and even potentially fatal medication errors. Breaking the 80/20 Automation Problem 80% of all medications are currently handled by automation solutions. ••  atient-specific multi-use items (eye drops, creams, inhalers) P ••  atient's medications brought from home P ••  Patient-specific controlled substances (e.g. morphine drip) ••  ulti-component medication orders M ••  on-formulary medications N "SinglePointe software has improved patient safety by decreasing the medication error rate associated with the patient transfer process, improved operational efficiency for pharmacy, and provided for more consistent nursing practice." — herri Ramsey, Director of Pharmacy, University of S Tennessee Medical Center SinglePointe Benefits: ••  mproves patient safety by reducing the potential for I medication errors, including missing doses. ••  linical and profile checks are applied to all patient C medications, reducing the potential for medication errors. ••  educes expenses caused by misplaced or lost medications. R 20% of all medication is patient-specific, non-standard. SinglePointe provides a smarter way to manage the 20% of medications that are not typically stocked in the automated dispensing cabinet, such as: ••  nfrequently used medications on a nursing unit I (not high volume) SinglePointe provides a single point of profile-based access for all of a patient's medications by storing them safely and securely in the automated cabinet. The result? More time for patient care, better compliance with the prescribed medication therapy and increased nursing satisfaction. ••  aves nurses time spent tracking down medications from S multiple locations, where they are often interrupted along the way. ••  mproves patient care by ensuring I all of the patient's medications are available and by giving the nurse more time to spend with patients. ••  ncreases I nursing productivity by eliminating inefficiencies in existing medication-use systems. ••  ncreases pharmacy I productivity and efficiency by automating manual processes.
Open the catalog to page 1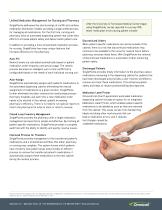 Unified Medication Management for Nursing and Pharmacy SinglePointe addresses the shortcomings of cartfill and cartless medication distribution models, providing a single unified process for managing all medications. For the first time, nursing and pharmacy have an automated dispensing system that unites their efforts to increase patient safety and deliver better patient care. In addition to providing a more streamlined medication process for nursing, SinglePointe has many unique features that increase efficiency for the pharmacy. Auto-Fill Restock levels are calculated automatically based...
Open the catalog to page 2
All OMNICELL catalogs and technical brochures

Archived catalogs
Compare up to 10 products