Catalogs

>

California Soft Spinal System Brochure
Catalog excerpts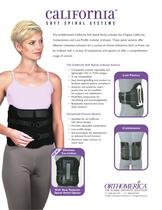 TM S O F T S P I N A L S Y S T E M S The prefabricated California Soft Spinal family includes the Original California, Compression, and Low-Profile modular orthoses. These spinal systems offer effective treatment solutions for a variety of clinical indications. Each orthosis can be ordered with a variety of components and options to offer a comprehensive range of control. The California Soft Spinal orthoses feature: • Completely modular, adjustable, and lightweight LSO or TLSO designs • X-ray compatibility • Easy donning/doffing and comfort to facilitate optimal patient compliance • Anterior and posterior insert panels that can be modified for support and stabilization • Predrilled components for retrofitting and interchangeability • Breathable material that wicks away moisture LOW PROFILE Compound Closure System N EW ! • Available for all California Soft Spinal designs • Provides adjustable compression • Low profile design • Accommodates hip development to enhance fit and function • Aluminum stays contour to lower back COMPRESSION ORIGINAL CALIFORNIA With New Posterior Spinal Relief Option THE GLOBAL ORTHOTIC SOLUTION SM TEL: 800.446.6770 | FAX: 800.638.9259 © 2003 Orthomerica Products, Inc. All Rights Reserved.
Open the catalog to page 1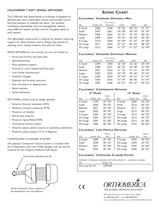 CALIFORNIA™ SOFT SPINAL ORTHOSES The California Soft Spinal family of orthoses is designed to alleviate pain, limit undesirable motion, and provide circumferential pressure to stabilize the spine. The systems' modularity, adjustability and interchangeability address many different patient profiles and the changing needs of each patient. The lightweight construction is optimal for patients requiring support for daily activities such as lifting, long periods of standing, work related motions, and self-care tasks. INDICATIONS for use include, but are not limited to: • • • • • • • • • • Acute...
Open the catalog to page 2
All Orthomerica catalogs and technical brochures

Compare up to 10 products