Catalogs

>

Newport® Shoulder System
Catalog excerpts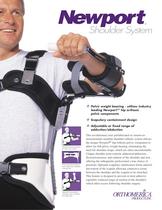 ® Pelvic weight bearing - utilizes industry leading Newport 3® hip orthosis pelvic components Scapulary containment design Adjustable or fixed range of adduction/abduction Adjustable abduction/adduction for rehab or post trauma. Newport hip orthosis bilateral pelvic component for comfortable weight bearing. Adjustable extension/flexion at the elbow joint w/o affecting the shoulder joint. This revolutionary new prefabricated or custom-tomeasurements modular shoulder orthotic system utilizes the unique Newport3® hip orthosis pelvic component to allow for full pelvic weight bearing, eliminating the need for shoulder straps, which are often uncomfortable. Unique shoulder joint controls adduction/abduction, flexion/extension, and rotation of the shoulder and arm, offering the orthopaedic professional a true choice of positions. Optional scapulary stabilization limits anterior movement of the scapula allowing connective tissue between the shoulder and the scapula to be stretched. This feature is designed to prevent or treat adhesive capsulitis (reduced range of motion of the shoulder) which often occurs following shoulder surgery. ® PRODUCTS,INC.
Open the catalog to page 1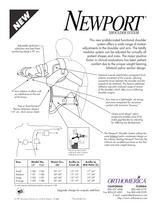 N EW NEWPORT ® SHOULDER SYSTEM This new prefabricated functional shoulder system offers a wide range of motion adjustments to the shoulder and arm. The totally modular system can be adjusted for virtually all patient shapes and sizes. The major positive factor in clinical evaluations has been patient comfort due to the unique weight bearing bilateral pelvic section design. Adjustable abduction/ adduction and free/fixed positioning along a 90˚ arc. Optional scapula stabilization component limits anterior movement of the scapula, allowing connective tissue between the shoulder and the scapula...
Open the catalog to page 2
All Orthomerica catalogs and technical brochures

Compare up to 10 products