Catalogs

>

OWLS™
Catalog excerpts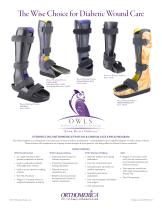 The Wise Choice for Diabetic Wound Care Wound Healing Orthosis Chopart/Lisfranc Relief Part # 136.06 Wound Healing Orthosis Forefoot Relief Solid Ankle Part # 136.03 Articulating Ankle Part # 136.04 Advanced Diabetic Orthosis Part # 136.01 Wound Healing Orthosis Midfoot/Walking AFO Part # 136.05 Wound Healing Orthosis Heel Relief Part # 136.02 INTRODUCING ORTHOMERICA'S WOUND & LIMB SALVAGE (OWLS) PROGRAM The OWLS Program is a culmination of ten plus years of The Wise Choicedevelopment — treating diabetic ulcers classified Wagner 1-4 with custom orthoses. clinical orthotic for Diabetic Wound Care These orthoses will complement the ongoing wound therapies & post-operative care being offered at Wound Centers worldwide. • As a stage two device when daytime ambulation is desired • Immediate post Chopart or Lisfranc amputation • Relief for midfoot ulcer during ambulation • Used in conjunction with the ADO night time orthosis • Protection of amputation site during ambulation • Post-TAL with plantar ulcer • Wagner 1+ ulceration of the heel. (Can be constructed to accommodate malleolus and forefoot wounds.) • Used as a post-operative walking orthosis • Delayed closure at amputation site • Relief for ulcer/wound that developed post Chopart or Lisfranc amputation • Wagner 1-3 wounds where unweighted ambulation is desired • Immediate post-op forefoot or midfoot amputation • Immediate post Symes amputation • Post Charcot support and Rocker Foot support • Post-operative wound care. ADO easily accommodates a Wound VAC • Post-Calcanectomy
Open the catalog to page 1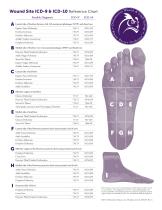 Wound Site ICD-9 & ICD-10 Reference Chart Possible Diagnosis A Lateral side of forefoot between 3rd–5th metatarsal phalanges (MTP) and distal toes Equino-Varus Deformity Forefoot Adduction Achilles Tendon Contracture Dropfoot Deformity Forefoot Inversion Medial side of forefoot 1st–3 metatarsal phalanges (MTP) and distal toes Posterior Tibial Tendon Dysfunction Ankle Valgus Deformity Equino-Valgus Deformity Achilles Tendon Contracture C Lateral side of mid-foot Equino-Varus Deformity Forefoot Inversion Forefoot Adduction Ankle Instability D Mid-line region of mid-foot Charcot Deformity...
Open the catalog to page 2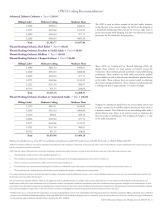 OWLS Coding Recommendations* Advanced Diabetic Orthosis  •  Part # 136.01 Billing Codes* Medicare Ceiling Medicare Floor The ADO is used to relieve wounds of the heel, ankle, forefoot, or leg. Because of its custom design, the ADO can be designed as a household ambulating AFO and also be worn at night time to protect the wound while sleeping. It is also very effective at wound protection for the wheelchair bound patient. Wound Healing Orthosis, Heel Relief •  Part # 136.02 Wound Healing Orthosis, Forefoot w/ Solid Ankle  •  Part # 136.03 Wound Healing Orthosis, Midfoot  •  Part # 136.05...
Open the catalog to page 3
All Orthomerica catalogs and technical brochures

Compare up to 10 products