Catalogs

>

Otis

>

Otis GlideTM P Door System
Catalog excerpts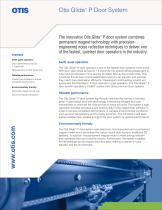 The innovative Otis Glide™ P door system combines permanent magnet technology with precision-engineered noise reduction techniques to deliver one of the fastest, quietest door operators in the industry. FEATURES Swift, quiet operation Door open times as fast as 1.4 seconds Reduces floor-to-floor travel time Reliable performance Closed loop software to ensure consistent performance Environmentally friendly Eliminates carbon-brush dust Does not require lubrication Swift, quiet operation The Otis Glide™ P door operator is one of the fastest door systems in the world. With door open times as fast as 1.4 seconds, the system allows passengers to enter and exit elevators more quickly for faster floor-to-floor travel times. This minimizes the amount of time passengers spend in an elevator and ensures they reach their destination efficiently. Passengers and building tenants will appreciate the Otis Glide™ P door operator's quiet operation. The Otis Glide™ P door system operates 5-10dBA* quieter than other premium door systems. Reliable performance The Otis Glide™ P door system significantly reduces the number of moving parts. It uses direct drive belt technology, eliminating linkages and cam mechanisms to minimize the chance that an issue will arise. The system's high resolution encoder provides exact position data to the closed loop software in order to achieve consistent performance in variable environmental conditions such as wind, temperature and humidity extremes. The controller's self-learn feature enables fast, reliable tuning of the door system for optimal performance. Environmentally friendly The Otis Glide™ P door system uses electronic communication and a permanent magnet motor which eliminates the carbon-brush dust found in traditional DC systems. In addition, the permanent magnet motor is more energy-efficient than operators that use induction motors. Furthermore, the system's sealed-for-life bearings do not require any lubrication making it cleaner for your elevator and the environment.
Open the catalog to page 1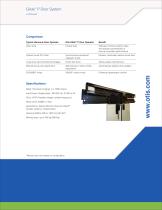 Typical Harmonic Door Operator Otis Glide7" P Door Operator Benefit Open loop Closed loop Software monitors position data and adjusts automatically to ensure consistent performance Carbon brush DC motor Synchronous permanent Cleaner, eliminates carbon-brush dust magnetic motor Long arms and mechanical linkages Direct belt drive Allows easier maintenance Manual set-up and adjustment Self-learning, motion profile Automatically adjusts and updates adjustment 55-65dBA* noise 50dBA* noise or less Enhanced passenger comfort Specifications Motor: Permanent...
Open the catalog to page 2
All Otis catalogs and technical brochures

Compare up to 10 products