Catalogs

>

Miniflux
Catalog excerpts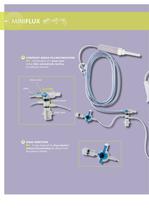 MINIFLUX Contrast media filling/injection Combination of a check valve and a slider automatically reacting to hydraulic pressure. check valve slider slider closed slider open Drug injection 3-way stopcock for drug injection without disconnecting the device from the patient catheter.
Open the catalog to page 2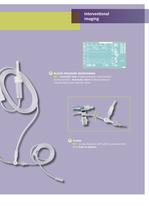 O BLOOD PRESSURE MONITORING - Automatic stop of blood pressure measurement during injection. Automatic return to blood pressure measurement once injection done. 3-way stopcock with saline & pressure lines fora flush at anytime.
Open the catalog to page 3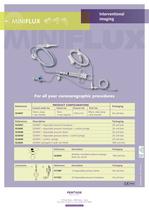 For all your coronarographic procedures References Description 0236NT + disposable pressure transducer 0236NT + disposable pressure transducer + control syringe 0236NT + disposable pressure dome 0236NT + disposable pressure dome + control syringe 0236NT packaged in bulk non sterile References Description 1) Disposable pressure dome 2) Disposable pressure transducer 135 Route Neuve - 69540 Irigny - France
Open the catalog to page 4
All Perouse Medical catalogs and technical brochures

Compare up to 10 products