Catalogs

>

AbsoClear® I.V Dressings CHG
Catalog excerpts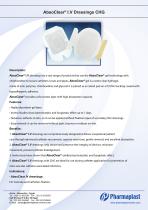 Description: AbsoClear® I.V dressings are a vast range of products that use the AbsoClear® gel technology with chlorhexidine to secure catheters, hoses and pipes. AbsoClear® gel is a water clear hydrogel, made of ionic polymer, chlorhexidine and glycerol it is placed as an island pad on a PU film backing coated with hypoallergenic adhesive. AbsoClear® provides soft contact layer with high absorption capacity. Features: • Highly absorbent gel layer. • Invitro Studies show bacteriostatic and fungistatic effect up to 7 days. • Tackiness: adheres to skin, so it can be applied without fixation tapes of secondary film dressings. • Easy removal: it can be removed without pain, trauma or residues on skin. Benefits: 1. AbsoClear® I.V dressings are comprehensively designed to deliver exceptional patient care through advanced catheter securement, superior wear time, gentle removal, and excellent absorption. 2. AbsoClear® I.V dressings help secure and preserve the integrity of devices, minimize movement, prevent catheter dislodgement. 3. Invitro tests have shown that AbsoClear® exhibits bacteriostatic and fungistatic effect. 4. AbsoClear® I.V dressings with CHG are ideal for use during catheter application for prevention of intra-vascular catheter-associated infections Indications: • AbsoClear IV dressings: For Cannula and Catheters fixation.
Open the catalog to page 1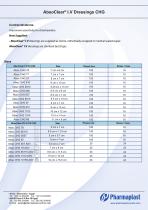 Contraindications: Any known sensitivity for chlorhexidine How Supplied: • AbsoClear9 I.V dressings are supplied as sterile; individually wrapped in medical sealed paper. AbsoClear* I.V dressings are sterilized by EO gas.
Open the catalog to page 2
All Pharmaplast catalogs and technical brochures

Archived catalogs

Compare up to 10 products