Catalogs

>

crack care
Catalog excerpts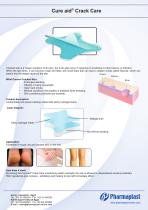 Cracked skin is a classic symptom of dry skin, but it can also occur in response to scratches or other trauma, or infection. When the skin dries, it can become rough and flaky, with small tears that can lead to deeper cracks called fissures, which can extend into the deeper layers of the skin Fissure Erosion What Causes Cracked Skin: • Prolonged standing. • Obesity or being overweight. • Open back shoes. • Medical conditions (neuropathy in diabetics limits sweating. • Skin conditions (psoriasis and eczema). Product description: Conformable non-woven backing coated with sticky hydrogel matrix. Application: Treatment of rough, dry and cracked skin on the foot How does it work: By leaving the Cure aid® Crack Care moisturizing patch overnight, the skin is allowed to rehydrateand remains protected. Rich ingredients give moisture, exfoliating and healing to skin with immediate effect.
Open the catalog to page 1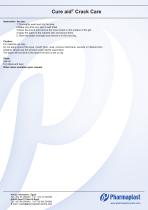 Instruction for use: 1 .Thoroughly wash and dry the area. 2.Make sure that your skin is well dried. 3.0pen the pouch and remove the cover sheet on the surface of the gel. 4.Apply the patch to the cracked skin and secure them. 5. Wear the patch overnight and remove it in the morning. Caution: For external use only. Do not apply around the eyes, mouth (lips), nose, mucous membrane, wounds or inflamed skin. Children should use this product under adult's supervision. The patch will not stick to the area if the skin is wet or oily. Sizes: 8x9 cm For elbow and heel Other sizes available upon...
Open the catalog to page 2
All Pharmaplast catalogs and technical brochures

Archived catalogs

Compare up to 10 products