Catalogs

>

Cure-Aid Scar Reduction Patch
Catalog excerpts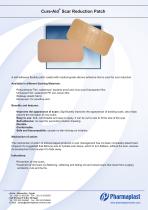 A self-adhesive flexible patch coated with medical grade silicone adhesive that is used for scar reduction. Available in different Backing Materials: •Polyurethane Film: waterproof, bacteria proof and virus proof transparent film. •Universal Film: waterproof PE non-woven film. •Sideway elastic fabric. •Nonwoven: for sensitive skin. Benefits and features: •Improves the appearance of scars: Significantly improves the appearance of existing scars, also helps prevent the formation of new scars. •Easy to use: Soft, comfortable and easy to apply. It can be cut to size to fit the size of the scar. •Self-adhesive: no need for secondary fixation dressing. •Durable. •Conformable. •Safe and biocompatible: causes no skin itching nor irritation. Mechanism of action: The mechanism of action of silicone based products in scar management has not been completely determined. However it's suggested that Silicone acts to hydrate scar tissue, which in turn flattens, softens the scar, reduces its development and causes it to fade away. Indications: •Prevention of new scars. •Treatment of old scars by flattening, softening and fading red and raised scars that result from surgery, accidents, cuts and burns.
Open the catalog to page 1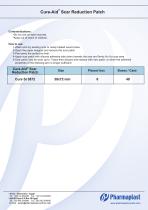 Contraindications: •Do not use on open wounds. •Keep out of reach of children. How to use: 1-Wash and dry existing scar or newly healed wound area. 2-Open the paper wrapper and remove the scar patch. 3-Peel away the protective liner. 4-Apply scar patch with silicone adhesive side down towards the scar and firmly fix it to scar area. 5-Scar patch may be worn up to 7 days then discard and replace with new patch, or when the adherent properties of the dressing are no longer sufficient.
Open the catalog to page 2
All Pharmaplast catalogs and technical brochures

Archived catalogs

Compare up to 10 products