Catalogs

>

Espuma Exulock Family
Catalog excerpts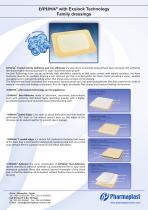 E/PUMA Exulock Family (adhesive and non-adhesive) are absorbent, atraumatic polyurethane foam dressing with uniformly distributed highly absorbing powder or super absorbent backing layer. ExuLock Technology foam has an extremely high absorption capacity so that upon contact with wound exudates, the foam massively absorbs all exudates forming a soft coherent gel that is locked within the foam matrix providing a super exudate managing system with gentle gelling action that allows easy removal of the dressing. The Polyurethane foam laminated with waterproof, bacteria proof and virus proof polyurethane film that prevents the strike of external infections and leakage of exudates. Also the highly breathable film creates moist wound healing environment. »E/PUMA with Exulock technology can be supplied as: • E/PUMA19 Non-Adhesive made of absorbent, atraumatic polyurethane foam with uniformly distributed highly absorbing powder with a highly-breathable bacterial and viral proof polyurethanebacking layer. • E/PUMA® Sealed Edges is the same as above description but with another perforated TPU layer as the wound contact layer so, the edges of the dressing can be sealed together to prevent lateral leakage. •E/PUMA C sealed edges is a carbon felt sandwiched between two layers of PU foam that is laminated to waterproof, bacteria proof and virus proof polyurethane film for superior bacterial and odour adsorption. •E/PUMA® Adhesive the same composition of E/PUMA® Non-Adhesive, placed centrally on adhesive substrate e.g. polyurethane film or spun laced nonwoven polyester fibres that extends beyond themargin of the island pad, so that the dressing can be applied without fixation tape or secondary dressing
Open the catalog to page 1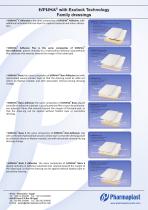 E/PUMA® C Adhesive : 1. Backing layer (PU or Spunlaced nonwoven or both) 2. Adhesive border 3. Central island pad made of: a Activated charcoal nonwoven layer b Polyurethane foam layer c Perforated Polyu retha n e fi I m 4. Release liner •E/PUMA® C Adhesive is the same composites of E/PUMA® Adhesive, with additional activated charcoal layer for superior bacterial and odour adsorption. •E/PUMA® Adhesive Plus is the same composites of E/PUMA® Non-Adhesive, placed centrally on a hydrocolloid adhesive polyurethane film substrate that extends beyond the margin of the island pad. ■E/PUMA® Basic...
Open the catalog to page 2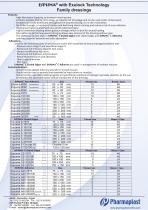 Features: - High Absorption Capacity, so increases wearing time. - Contains exudate locking technology, so reduces risk of leakage and can be used under compression. - Exudates are easily distributed throughout the wound dressing, so no skin maceration. - No Strike-through, so no fear of clothes and bed lining sheets staining and reduces risk of cross infection. - Waterproof, bacteria proof and virus proof outermost layer. - Highly breathable dressing allows gaseous changes which is ideal for wound healing. - Non-adherent gel forming wound dressing allows easy removal of the dressing...
Open the catalog to page 3
All Pharmaplast catalogs and technical brochures

Archived catalogs

Compare up to 10 products