Catalogs

>

Espuma Lipo PC
Catalog excerpts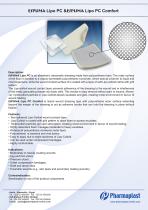 Description: E/PUMA Lipo PC is an absorbent, atraumatic dressing made from polyurethane foam. The outer surface of the foam is bonded to a vapour-permeable polyurethane nonwoven, which acts as a barrier to liquid and microorganisms, while the wound contact surface of is coated with a layer of soft Lipo-colloid matrix with grid pattern. The Lipo-colloid wound contact layer prevents adherence of the dressing to the wound bed or interference of the newly granulating tissues into foam cells. This results in easy removal without pain or trauma. Moreover, hydrocolloid particles in Lipo-Colloid absorb exudates and gels, creating moist environment in favour of wound healing. E/PUMA Lipo PC Comfort is island wound dressing type with polyurethane outer surface extending beyond the margin of the dressing to act as adhesive border that can hold the dressing in place without fixation. Features: • Non adherent Lipo-Colloid wound contact layer. ■ Lipo-Colloid is coated with grid pattern to allow foam to access exudates. • Hydrocolloid particles gel upon absorption, creating moist environment in favour of wound healing. • Highly absorbent foam manages moderate to heavy exudates. • Waterproof polyurethane nonwoven outer layer. • Polyurethane is bacterial and viral barrier. * Easy to apply due to slight tackiness of Lipo-Colloid. * Can be used under compression bandages. • Highly conformable. Indications: • Moderately to heavily exuding wounds. • Leg and foot ulcers. • Pressure ulcers. • Under compression bandages. • Graft and donor sites • Traumatic wounds (e.g., skin tears and secondary healing wounds). Contraindication: Sensitization to any of the product components.
Open the catalog to page 1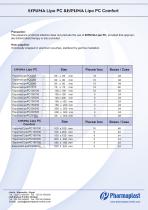 Precaution: The presence of clinical infection does not preclude the use of E/PUMA Lipo PC, provided that appropriate antimicrobial therapy is also provided. How supplied: Individually wrapped in aluminum pouches, sterilized by gamma irradiation.
Open the catalog to page 2
All Pharmaplast catalogs and technical brochures

Archived catalogs

Compare up to 10 products