Catalogs

>

Germifree Hand Sanitizer Gel
Catalog excerpts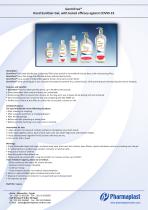 Description: GermiFree® for hands disinfection, containing 70% (w/w) alcohol in an emollient-rich gel base, with moisturizing effect. GermiFree® has a fast-acting and effective proven antimicrobial activity. GermiFree® has a proven viricidal effect against Human Coronavirus strain OC43. GermiFree® hand sanitizing gel is also uniquely formulated to prevent dry, cracked hands, while protecting and maintaining skin barrier integrity. Features and benefits: • GermiFree® hand sanitizer gel Kills germs up to 99.99% in 60 seconds. • Great alternative when soap and water are unavailable. • Moisturizing effect to prevent skin dryness on the long-term use, it leaves hands feeling soft and refreshed. • Non-sensitizing and non-irritant to skin and complying with ISO 10993-10. • Perfect size to share at the office or school, fits on any desk, counter or sink. Intended Purpose: For hand disinfection in the following situations: • After sneezing or coughing. • After using the washroom or changing diapers. • After handle garbage. • Before and after preparing or eating food. • Before and after touching a cut, open sore or wounds. Instructions for Use: 1- Apply at least 3 ml (around 3 drops) sanitizer to completely cover both hands. 2- Rub hands together, palms, back of each palm, over and under fingernails and between fingers. 3- Keep rubbing hands together for 60 seconds until they are dry. 4- Do not dry with a towel. Warnings: • Highly flammable liquid and vapor, so please keep away from heat, hot surfaces, open flames, sparks and please ensure no smoking near the gel. • If medical device is needed, have product container or label at hand. • Keep out of reach of children. • Read the product label before use. • Please avoid eye contact after using the product as it causes serious eye irritation. If eye irritation happens, please do as follows: - Rinse cautiously with water for several minutes. - Remove contact lenses, if feasible. - Continue rinsing. - If eye irritation persists: Get medical advice/attention. • Store in a well-ventilated place and keep the product cool. • Dispose of contents and container to an approved waste disposal plant. • For external use only. Shelf life: 3 years.
Open the catalog to page 1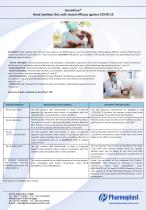 Germifree® Hand Sanitizer Gel, 70% w/w was tested in accredited labs to prove its antimicrobial activity against different strains of bacteria and Human Coronavirus strain OC43. As a final conclusion, Germifree® Kills germs up to 99.99% in 60 seconds and meets all requirements set by the following legal standards: - BS EN 1276:2019; "Chemical disinfectants and antiseptics. Quantitative suspension test for the evaluation of bactericidal activity disinfectants and antiseptics used in food, industrial, domestic and institutional areas. Test method and requirements (phase 2, step 1)". - BS EN...
Open the catalog to page 2
All Pharmaplast catalogs and technical brochures

Archived catalogs

Compare up to 10 products