Catalogs

>

Kemagel amorphous
Catalog excerpts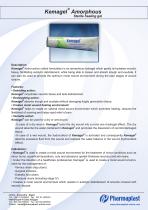 Description: Kemagel hydro-active colloid formulation is an amorphous hydrogel which gently re-hydrates necrotic tissue, facilitating autolytic debridement, while being able to loosen and absorb slough and exudate. It can also be used to provide the optimum moist wound environment during the later stages of wound closure. Features: • Debriding action: Kemagel rehydrates necrotic tissue and aids debridement. • Desloughing action: Kemagel®absorbs slough and exudate without damaging fragile granulation tissue. • Creates moist wound healing environment: Kemagel® helps to create an optimal moist wound environment which promotes healing, reduces the likelihood of scarring and helps rapid relief of pain • Versatile action: Kemagel® can be used for a dry or wet wound. -In case of a dry wound, Kemagel® turns the dry wound into a moist one (hydrogel effect). The dry wound absorbs the water contained in Kemagel® and promotes the dissolution of necrotic/damaged tissue. -In case of a wet wound, the hydrocolloid of Kemagel® is activated and consequently Kemagel** absorbs excessive fluid from the wound and restores the water balance in the wound (hydrocolloid effect). Indications: • Kemagel®is used to create a moist wound environment for the treatment of minor conditions such as minor burns, superficial lacerations, cuts and abrasions (partial thickness wounds) and skin tears. • Under the direction of a healthcare professional, Kemagel® is used to create a moist wound environment for the management of: -Venous ulcers (leg ulcers) -Surgical incisions -Diabetic foot ulcers -Pressure ulcers (including stage IV) • Creates a moist wound environment which assists in autolytic debridement of wounds covered with necrotic tissues.
Open the catalog to page 1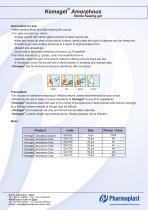 Instructions for use: • Wash hands before and after treating the wound. • For open wounds e.g. ulcers: -Irrigate wound with sterile saline solution to clean wound site. -Keep the nozzle tip clear of the wound surface; gently press the tube to dispense gel into thewound. Smooth th gel over surface of wound to a depth of approximately 5mm. -Discard any unused gel. -Cover with a secondary dressing of choice e.g. Protectfilm • For minor wounds (e.g. grazes, cuts) and superficial burns -Carefully apply the gel to the wound (without rubbing) once or twice per day. -If necessary, cover the wound...
Open the catalog to page 2
All Pharmaplast catalogs and technical brochures

Archived catalogs

Compare up to 10 products