Catalogs

>

Kemagel Silicone
Catalog excerpts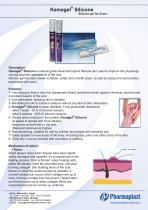 Description: Kemagel® Silicone is medical grade advanced topical Silicone Gel, used to improve the physiological and cosmetic appearance of the scar. Silicone gel has been shown to flatten, soften and smooth scars, as well as reduce the discoloration associated with scars. 1- Fast drying to form a very thin transparent elastic protective barrier against chemical, physical and microbial invasion of the scar. 2- Gas permeable, allowing skin to breathe. 3- Maintains the skin's moisture balance without any fear of skin maceration. 4- Kemagel® Silicone is water repellant, it has good wash resistance: •after 1 wash - 70 % of silicone remains, •after 3 washes - 40% of silicone remains. 5- Versus other products in the market, KemageF Silicone: •Is easier to spread and more slippery. •Improves smooth feel on the skin. •Reduced tackiness and gloss. 6- Non-sensitizing, suitable for use by children and people with sensitive skin. 7- Easily applied to most areas of the body, including face, joints and other parts of the skin 8- Once dry, it can be covered with cosmetics or clothing. Mechanism of action: • Scars: Scars always occur when tissues have been significantly damaged and repaired. It's a natural part of the healing process. Scar is formed when healing cells, called fibroblasts, enter the wounded area and start forming collagen (the building block of the scar tissue) to close the wound as fast as possible. A normal looking scar occurs when collagen line up in rows, forming a bridge over the wound. Hypertrophic and Keloid scars occur when collagen fibers are overproduced and do not line up uniformly.
Open the catalog to page 1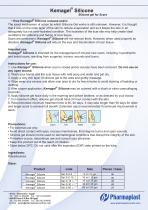 How Kemagel® Silicone reduces scars: The exact mechanism of action by which Silicone Gel works is still unknown. However, it is thought that it acts on the outer layer of the skin to reduce evaporation and so it keeps the skin in an adequately but not over-hydrated condition. The hydration of the scar site may help create ideal conditions for softening and fading of scar tissue. Scars are permanent; Kemagel® Silicone will not remove them. However, when used properly as directed, Kemagel® Silicone will reduce the size and discoloration of scar tissue. Intended use: Kemagel® Silicone is...
Open the catalog to page 2
All Pharmaplast catalogs and technical brochures

Archived catalogs

Compare up to 10 products