Catalogs

>

Pharma-Algi F Ag
Catalog excerpts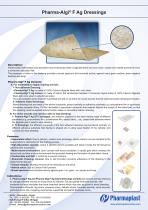 Description: Antimicrobial haemostatic and absorbent wound dressing made of alginate fibers and ionic silver, carded and needle punched to form a nonwoven absorbent felt. The presence of silver in the dressing provides a broad spectrum anti-microbial activity against many gram positive, gram negative bacteria and fungi. Pharma-Algi18 F Ag Variants: A- For moderately to highly exuding wounds: 1- Non adherent Dressing: • Pharma-Algi® F Ag: is made of 100% Calcium Alginate fibers with ionic silver. • Pharma-Algi® F Ag Carbon: is made of carbon felt sandwiched between 2 nonwoven layers made of 100% Calcium Alginate fibers with ionic silver to adsorb bad odour. They are available as flat sheet for superficial wounds or as ribbon for cavity wounds that will need secondary dressing for fixation. 2- Adhesive Island Dressings: Island dressing that are made of the above composite, placed centrally on adhesive substrate e.g. polyurethane film or spunlaced nonwoven polyester fibres, PU film laminated to spunlaced nonwoven that extends beyond the margin of the island pad, so that the dressing could be applied without fixation tapes or secondary fixation dressing. B. For minor wounds and injection sites to stop bleeding: 1- Pharma-Algi F Ag OTC bandages: are adhesive plasters for the retail market made of different substrates e.g. polyurethane film, polyethylene film, elastic fabric,...etc, coated with adhesive where the alginate pad is used to stop bleeding. 2- IV Dressings: the different composite of the Non adherent dressing may be placed centrally on different adhesive substrate that having U shaped silt, to allow easy fixation of the catheter and cannula and stop bleeding Features: • Haemostatic effect: Due to calcium - sodium ions exchange, where calcium ions are donated to the wound which is vital factor for the clotting process. • High Absorption capacity: where it absorbs wound exudates and locks it inside the formed gel so prevents skin maceration. • Moist wound environment: Upon contact with wound exudates, it rapidly gels which overlays the wound and provides a micro-environment that promotes healing and formation of granulation tissue. • Conformable and Soft: it conforms to wound contours. • Atraumatic Dressing removal: Due to Gel formation prevents adherence of the dressing to the newly formed tissues • Unique Integrity: allowing removal of the dressing as one piece. • Adsorb odour: due to Carbon Felt if present. • Broad spectrum anti-microbial activity against gram +ve, gram -ve, spores and fungi. Indications: 1. Pharma-Algi F Ag and Pharma-Algi F Ag island dressings variants are used as primary dressing to manage infected wounds or those prone to infection, full and partial thickness wounds, with moderate to heavy exudates that have breached dermis which may also be prone to minor bleeding: Post-operative Wounds, leg ulcers, pressure ulcers, diabetic ulcers, traumatic wounds, cavity wounds, graft and donor site, fungating carcinomas, superficial and partial thickness burns.
Open the catalog to page 1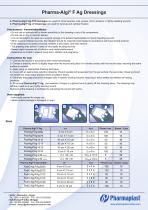 2. Pharma-Algi F Ag OTC bandages are used for minor wounds, cuts, grazes, minor abrasion or lightly bleeding wounds. 3. Pharma-Algi F Ag I.V Dressings: are used for cannula and catheter fixation. Precautions / Contraindications: • Do not use on patients with a known sensitivity to the dressing or any of its components. ■ Do not use on dry or necrotic tissues. • It is not intended to be used as a surgical sponge or to achieve haemostasis in heavily bleeding wounds. ■ When used on infected wounds, the infection should be inspected and treated in accordance with local clinical protocol. • If...
Open the catalog to page 2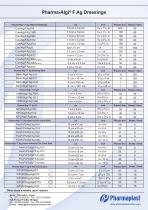 All Pharmaplast catalogs and technical brochures

Archived catalogs

Compare up to 10 products