Catalogs

>

Pharma Swab family
Catalog excerpts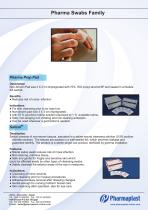 Pharma Prep Pad Description Non-Woven Pad size 3 X 3 cm impregnated with 70% ISO propyl alcohol BP and sealed in a flexible foil sachet. Benefits • Reduces risk of cross- infection Indications • For skin cleansing prior to an inject ion. • Non-woven pad size 3 X 3 cm impregnated . • with 10 % povidone Iodine solution equivilant to 1 % available iodine. • Safe, non-stinging non irritating and non-staining antiseptic.. • Can be used wherever a germicidal is needed. Description: Salicol consists of non-woven tissues, saturated in a saline wound cleansing solution (0.9% sodium chloride solution). The tissues are packed in a well-sealed foil, which prevents leakage and guarantee sterility. The product is a sterile single use product, sterilized by gamma irradiation. Features: • Sterile saline swab reduces risk of cross infection. • Non-staining, odorless tissue. • Safe and gentle for fragile and sensitive skin which could be affected easily by other types of cleansing swabs. • Safely cleanses the exterior areas of the eye in newborns. Indications: • Cleansing of minor wounds. • Skin cleansing prior to invasive procedures. • Adhesive residues removal after dressing changes. • Gentle enough for nursing mothers' breast care. • Skin cleansing after operation, also for eye care.
Open the catalog to page 1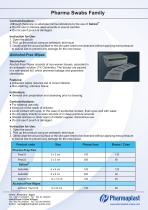 Contraindications: Although there are no absolute contra-indications to the use of Salicor • Do not use to cleanse deep wounds or wound cavities. • Do not use if pouch is damaged. Instruction for Use: 2. Pick up the product using an antiseptic technique 3. Gently wipe the wound surface or the skin part need to be cleansed without applying extra pressure to wound site to prevent any damage for the new tissue. Alchohol-Free Wipes Description: Alcohol-Free Wipes consists of non-woven tissues, saturated in an antiseptic solution (1% Cetrimide). The tissues are packed in a well-sealed foil,...
Open the catalog to page 2
All Pharmaplast catalogs and technical brochures

Archived catalogs

Compare up to 10 products