Catalogs

>

PharmaAlgi
Catalog excerpts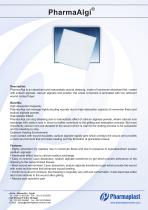 Description: Pharma-Algi is an absorbent and haemostatic wound dressing, made of nonwoven absorbent felt, coated with sodium alginate, calcium alginate and powder; the whole composite is laminated with non adherent wound contact layer. Benefits: High Absorption Capacity: Pharma-Algi can manage highly exuding wounds due to high absorption capacity of nonwoven fibers and sodium alginate powder. Haemostatic Effect: Pharma-Algi can stop bleeding due to haemostatic effect of calcium alginate powder, where calcium ions exchange with sodium ions in blood to further contribute to the gelling and absorption process. But more importantly calcium ions are donated to the wound which is vital for the clotting process to be successful and for bleeding to stop. Optimum Healing Environment: Upon contact with wound exudates, sodium alginate rapidly gels which overlays the wound and provides a micro-environment that promotes healing and the formation of granulation tissue. Features: • Highly absorbent: by capillary rise in nonwoven fibres and due to presence of superabsorbent powder (sodium alginate) • Haemostat effect: due to calcium-sodium exchange • Easy to remove: upon absorption, sodium alginate transforms to gel which prevent adherence of the dressing to the newly formed tissues. • Moist wound environment: Upon absorption, sodium alginate transforms to gel which provide the wound with moist environment that enhances wound healing. • Conforms to wound contours: the dressing is originally very soft and conformable. It also becomes softer and more intimate to the wound after gelling. • Reduce post operative pain.
Open the catalog to page 1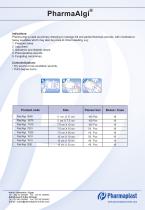 Indications: Pharma-Algi is used as primary dressing to manage full and partial thickness wounds, with moderate to heavy exudates which may also be prone to minor bleeding, e.g: 3. Ischaemic and diabetic ulcers. 5. Fungating carcinomas. Contraindications: • Dry wound or low exudation wounds. • Third degree burns.
Open the catalog to page 2
All Pharmaplast catalogs and technical brochures

Archived catalogs

Compare up to 10 products