Catalogs

>

Pharmacoll® Spots
Catalog excerpts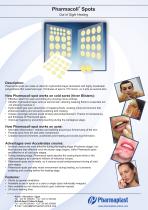 Description: Pharmacoll spots are made of ultra thin hydrocolloid layer laminated with highly breathable polyurethane film outermost layer. Thickness of spot is 175 micron, so it acts as second skin. How Pharmacoll spot works on cold sores (fever Blisters): • Effective relief from pain and itching by covering nerve endings. • Ultrathin hydrocolloid layer acts as second skin, allowing weeping fluids to evaporate but not allowing moisture in. • Hydrocolloid gels upon absorption of weeping fluids, creating moist environment that enhances healing and prevents scabbing and crusting. • Unseen coverage reduces social anxiety and embarrassment. Thanks to transparency and thickness of Pharmacoll spots. • Improves hygiene by preventing touching during the contagious stage. How Pharmacoll spot works on acne: • Alleviates inflammation, redness and swelling around pus formed area of the skin. • Protects acne from dirt and other contaminant. • Creates moist environment, accelerate acne healing and avoids scar formation. Advantages over Accelerates creams: • Antiviral creams are most effective during the tingling stage (Prodrome stage), but they become less effective once the blister stage begins, while Pharmacoll spots are effective in all cold sore stages. • During weeping stage, Pharmacoll spots absorbs the oozing liquid which is the most contagious as it contains millions of infectious viruses. • Pharmacoll spots are invisible, so it reduces social embarrassment during all cold sore stages. • Pharmacoll spots provides moist environment during healing, so it prevents scabbing and crusting before the healing stage. Features: • Sterile by gamma irradiation. • Available as set of spots on a card or single spots individually wrapped. • Also available as non sterile product upon customer request. • 24 hours wearing time.
Open the catalog to page 1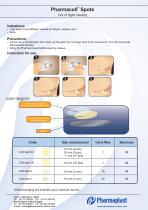 Out of Sight Healing Indications: • Cold sores "Fever Blisters" caused by Herpes simplex virus. • Acne. Precautions: • Do not use in combination with cream, as the spot may no longer stick to the wound and thus will not provide full treatment benefits. • Apply the Pharmacoll spot before wearing makeup. Instruction for use: Layer diagram Breathable,waterproof Bacteriaproof Polyureathane Film 15 mm (16 psc) 48 Coll spot 2 15 mm (2 pcs) 10 48 Coll spot 1 15 mm (1 pcs) 20 48 Other packaging are available upon customer request. Amria - Alexandria - Egypt Tel. : 002 03 4500264 Fax : 002 03...
Open the catalog to page 2
All Pharmaplast catalogs and technical brochures

Archived catalogs

Compare up to 10 products