Catalogs

>

Pharmagel Ag®, Pharmagel Ag® Comfort
Catalog excerpts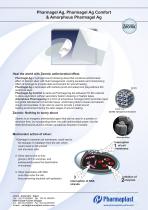 Heal the world with Zeomic antimicrobial effect. Pharmagel Ag is hydrogel wound dressing sheet that combines antimicrobial effect of Zeomic silver with fluid management, cooling sensation and moisturizing effect of hydrogel to provide ideal environment for wound healing. Pharmagel Ag is laminated with bacteria proof and waterproof polyurethane film outermost layer. Pharmagel Ag Comfort is same as Pharmagel Ag but adhesive PU film extends to allow application without secondary fixation dressing or fixation tapes. Amorphous Pharmagel Ag is in form of amorphous hydrogel which promotes rapid but gentle debridement of necrotic tissue, whilst being able to loosen and absorb slough and exudates. It can also be used to provide a moist wound healing environment during the later stages of wound healing. Zeomic: Nothing to worry about Zeomic is an inorganic antimicrobial agent that can be used in a powder or emulsion form, by incorporating silver ions,with antimicrobial power, into the three-dimensional alumino-silicate nanoporous structure of zeolite. Mechanism action of silver: 1-Damage to bacterial cell membrane, could lead to the leakage of cytoplasm from the cell, which would result in dehydrated and shrunken cells. 2- Silver atoms bind to thiol groups (-SH) in enzymes, and subsequently,cause the deactivation of enzymes. 3- Silver associates with DNA once they enter the cell, thus preventing bacterial cell replication, interruption of DNA strands Silver particles Interruption 1 of cell c c C c membrane C c c_
Open the catalog to page 1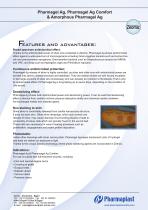 Features and advantages: Broad spectrum antimicrobial effect: Thanks to the antimicrobial power of silver ions contained in Zeomic. Pharmagel Ag shows antimicrobial effect against a wide spectrum of microorganisms including Gram-negative bacteria such as Escherichia coli and pseudomonas aeruginosa; Gram-positive bacteria such as Staphylococcus aureus and MRSA; and VRE; and fungi such as Aspergillus niger and Penicillium nigricans. Continuous antimicrobial protection: Pharmagel Ag release of silver is highly controlled, as silver and other ions with antimicrobial power are bonded into zeomic...
Open the catalog to page 2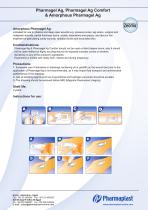 Amorphous Pharmagel Ag: indicated for use in shallow and deep open wounds e.g. pressure sores, leg ulcers, surgical and malignant wounds, partial thickness burns, scalds, lacerations and grazes, and also for the treatment of granulating cavity wounds, radiation bums and excoriated skin. Contraindications: Pharmagel Ag & Pharmagel Ag Comfort should not be used on third degree burns; also it should not be used neither on highly exuding wound nor exposed muscles, bones or tendons. Sensitivity to any of the product's ingredients. Experience is limited with newly born, infants and during...
Open the catalog to page 3
All Pharmaplast catalogs and technical brochures

Archived catalogs

Compare up to 10 products