Catalogs

>

Pharmapore – PU Original Frame Style
Catalog excerpts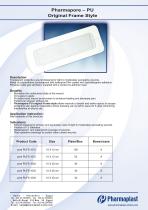 Description Transparent protective wound dressing for light to moderately secreating wounds. Made of polyurethane bacteria proof and waterproof film coated with hypoallergenic adhesive Ethylene oxide gas sterilized, supplied with a central no-adherent pad. Benefits i Maintains the undisturbed state of the wound, i Very easy to apply, i Provides moist wound environment to enhance healing and decrease pain, i Patient can shower without risk, i Pharmapore PU original Frame style allows wounds to breath and water vapour to escape protecting skin against maceration where dressing can be left in place for 5 days minimizing interference at wound site . Application instruction : See backside of this brochure. Indications i Wound dressing for primary and secondary care of light to moderately secreating wounds, i Fixation of I.V catheters . i Bacteriaproof and waterproof coverage of wounds. I Post operative dressings to protect clean closed wounds.
Open the catalog to page 1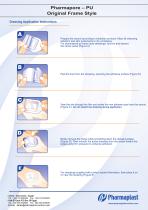 Prepare the wound according to institution protocol. Allow all cleansing solutions and skin protectants to dry completely. For pharmapore pu frame style dressings, remove and discard the center panel (Figure A). Peel the liner from the dressing, exposing the adhesive surface (Figure B). View the site through the film and center the non adherent pad over the wound (Figure C). Do not stretch the dressing during application. Slowly remove the frame while smoothing down the dressing edges (Figure D). Then smooth the entire dressing from the center toward the edges using firm pressure to enhance...
Open the catalog to page 2
All Pharmaplast catalogs and technical brochures

Archived catalogs

Compare up to 10 products