Catalogs

>

Vilowond
Catalog excerpts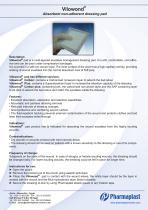 Description: ViiowondP pad is a multi-layered exudates management dressing pad. It is soft, comfortable, cost effective and can be used under compression bandages. It is covered in a soft non-woven layer. The inner surface of the cover has a high capillary activity, providing wicking of wound exudates into the central absorbent core of fluff pulp. Vilowond® pad has different versions: VilowoncF Carbon: contains a Carbonized nonwoven layer to adsorb the bad odour Vilowond® Plus: contains a Superabsorbent layer to increase the retention capacity of the dressing Vilowond® Carbon plus: containing both, the carbonized non woven layer and the SAP containing layer to be able to adsorb the bad odour and retain the exudates inside the dressing. Features: • Excellent absorption, adsorption and retention capabilities • Atraumatic and painless dressing removal • Reduced intervals of dressing changes. • Good protective and ventilating wound cushion. • The fluid-repellent backing prevents external contamination of the wound and protects clothes and bed linen from exudates strike-through Indications: W/owond® pad product line is indicated for absorbing the wound exudates from the highly exuding wounds. Contraindications: • Dry wounds or wounds covered with hard necrotic tissue • The dressing should not be used on patients with a known sensitivity to this dressing or one of its components. Frequency of change: It depends on the state of the wound. In case of sloughy or heavily exuding wounds, the dressing should be changed daily. For lower exuding wounds, the dressing could be left in place for longer time. Instructions for use: ► Open the pouch ► Remove the product out of the pouch using aseptic technique ► Place the Vilowond® pad in contact with the wound where, the white layer should be the layer in contact with the wound and the Blue hydrophobic layer faced outwards. ► Secure the dressing to skin by using Pharmaplast elastic gauze or any fixation tape.
Open the catalog to page 1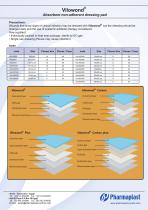 Precautions: Wounds that show signs of clinical infection may be dressed with W/owond® but the dressing should be changed daily and the use of systemic antibiotic therapy considered. How supplied: • Individually packed in heat seal package, sterile by EO gas • Single use dressing (Reuse may cause infection). W/owond® Carbon Outermost layer Outermost layer Distribution layer _ Wound contant layer. Distribution layer -Wound contant layer. V?/owond® Plus V?/owond® Carbon plus Outermost layer Super absorbent layer Fluff pulp Distribution layer Wound contant layer Outermost layer " Carbon...
Open the catalog to page 2
All Pharmaplast catalogs and technical brochures

Archived catalogs

Compare up to 10 products