Catalogs

>

-80°C VIP Ultra-Low Temperature Freezer MDF-C8V1
Catalog excerpts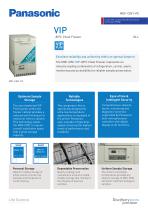 will change to PHCbi In April 2018, our Biomedical Business Brand will change to PHCbi Excellent reliability and uniformity within an optimal footprint The MDF-C8V1 VIP -80°C Chest Freezer represents an industry-leading combination of refrigeration, control, alarm, monitoring and accessibility for reliable sample preservation. Ease of Use & Intelligent Security Optimum Sample Storage Reliable Technologies The use of patented VIP PLUS panels within the freezer cabinet provides a reduced wall thickness for maximum interior volume. This technology allows the MDF-C8V1 to require a small installation space with a great storage capacity. The compressor that is specifically designed for ultra-low temperature applications is employed in the proven Panasonic auto-cascade refrigeration system ensuring the highest levels of performance and reliability. Comprehensive setpoint, alarm, monitoring and diagnostic functions supervised by Panasonicbuilt microprocessor controller with digital display of all functions. Personal Storage Dependable Preservation Uniform Sample Storage Ideal for reliable storage of small volume clinical trial samples and temperature control testing. Quality of design and manufacture ensures trusted, reliable storage that maintains the integrity of precious samples. The uniform and stable temperatures provided are ideal for storage of DNA, RNA and other important biological samples.
Open the catalog to page 1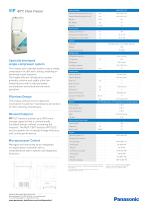 Specially developed single-compressor system The unique auto-cascade system uses a single compressor for efficient cooling, enabling an extremely small footprint. The highly efficient refrigeration system provides uniform and stable ultra-low temperatures with a reduced power consumption and extremely low noise operation. Filterless Design The unique cooling circuit makes the inconvenient customer maintenance procedure of filter cleaning unnecessary. Minimal Footprint VIP ULT freezers provide up to 30% more storage capacity than a conventionally insulated freezer without increasing...
Open the catalog to page 2
All PHC Europe B.V. / PHCbi catalogs and technical brochures

Archived catalogs

Compare up to 10 products