Catalogs

>

Biological Safety Cabinet
Catalog excerpts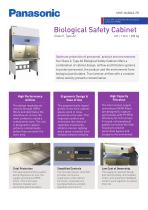 will change to PHCbi Biological Safety Cabinet Class II, Type A2 In April 2018, our Biomedical Business Brand will change to PHCbi Optimum protection of personnel, product and environment Our Class II, Type A2 Biological Safety Cabinet offers a combination of cabinet design, airflow and filtration systems to protect personnel, the product and the environment from biological particulates. True laminar airflow with a constant inflow velocity prevents contamination. High Capacity Filtration High Performance Airflow Ergonomic Design & Ease of Use The design regulates air velocity through HEPA filters and distributes the downflow air across the work surface to create a containment zone. The unit is designed to capture airborne contaminants before they can enter the work area. The ergonomically sloped profile of the front cabinet places work in close proximity to the user. This improves comfort and minimises the stress of repetitive movements. Uniform interior lighting and a glare-resistant front window enhance visibility. The front-access supply and exhaust HEPA filters are designed to capture particulates with 99.995% efficiency for 0.3 microns. A closed-cell peripheral gasket surrounds the filter housing to prevent particulate bypass and escape to the enviroment. Total Protection Simplified Controls The specialised airflow system evenly disperses air over the supply and exhaust HEPA filters. This minimises vibration transfer and eliminates potential leaks. The microprocessor controller provides continuous supervision of all cabinet functions. Universal icon touchpad buttons simplify operation and control. The supply air plenum design and electronically commutated motor, with automatic feedback control, work together to extend filter life.
Open the catalog to page 1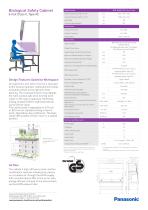 Design Features Optimise Workspace An ergonomic arm rest in front of a recessed airfoil ensures operator safety and eliminates turbulent airflow at the cabinet's front opening. The recessed interior tray expands the work surface safe zone to bring work closer to the user. A spacious, frameless, sliding window (533mm high) extends the users field of vision. The cabinet base is adjustable to 673 mm or 826 mm for standard sitting or bench work, depending upon preference. The base stand offers plenty of knee-room in a seated position. Airflow The cabinet's high-efficiency motor and...
Open the catalog to page 2
All PHC Europe B.V. / PHCbi catalogs and technical brochures

Archived catalogs

Compare up to 10 products