Catalogs

>

Biomedical ECO -30ºC Freezers
Catalog excerpts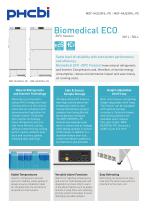 pHcbi Biomedical ECO -30°C freezers 369 l | 504 L Same level of reliability with even better performance and efficiency. Biomedical ECO -30°C Freezers have natural refrigerants and Inverter Compressors and, therefore, minimise energy consumption, reduce environmental impact and save money on running costs. Natural Refrigerants and Inverter Technology Naturally occuring hydrocarbon [HC] refrigerants have minimal effect on the environment and are compliant with environmental legislation for climate control. Combined with inverter technology, these refrigerants also provide more efficient cooling without compromising cooling perfor-mance, ambient tolerance and recovery speeds following door openings. Safe & Secure Sample Storage The Biomedical ECO freezers have high and low abnormal temperature alarms, and manual defrosting to prevent samples from being affected by temperature variations. The MDF-MU539HL-PE features two separate outer doors to reduce cold air leakage when taking samples in and out of the freezer. In addition to a standard-feature door lock, a latch that allows a padlock to be attached is also provided. Height-adjustable shelf trays Both units feature completely height-adjustable shelf trays. The freezer can be equipped with optimal storage containers. Optional drawer and racking systems are available upon request. (the slim model, MDF-MU339HL-PE, features a width of just 616 mm) Easy Defrosting Defrosting can become an easy task with the drain hose which is attached to the main unit. TEMPI AAIURHC) Versatile Alarm Functions Alarms for high/low temperatures and an error code display with self diagnostic functions inform users of any abnormalities such as power failures or plug drop-outs, allowing prompt actions to be taken to avoid damaging valuable samples.
Open the catalog to page 1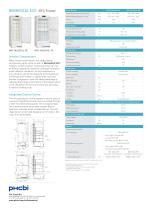 BIOMEDICAL ECO -30°C FreezerMDF-MU539HL-PE Inverter Compressors While conventional freezers use single speed compressors which cycle on and off, Biomedical ECO Freezers contain inverter compressors that can run at different speeds to maximise cooling performance under different conditions. As the compressor is not cycling on and off as frequently the temperature uniformity of the freezer is significantly improved. Inverter compressors have the added advantage of reducing the energy consumption of the freezer which is not only better for the environment but also helps to reduce running...
Open the catalog to page 2
All PHC Europe B.V. / PHCbi catalogs and technical brochures

Archived catalogs

Compare up to 10 products