Catalogs

>

Getting to the core of cancer - Servier Research Institute
Catalog excerpts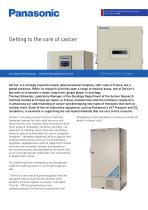 In April 2018, our Biomedical Business Brand will change to PHCbi Getting to the core of cancer CUSTOMER TESTIMONIAL - SERVIER RESEARCH INSTITUTE Servier is a strongly research-based, pharmaceutical company, with roots in France, but a global presence. While its research activities span a range of medical areas, one of Servier's key aims is to become a major, long-term, global player in oncology. Thomas Edmonds, Laboratory Manager of the Oncology Department of the Servier Research Institute located at Croissy sur Seine, in France, outlines how vital the Institute's research is in advancing our understanding of cancer and developing new types of therapies that work at cellular level. State-of the art laboratory equipment, such as Panasonic's ULT Freezers and CO2 Incubators, is essential in supporting the cell-based methods that are core to this research. Servier's oncology research aims to find new treatment options for both solid tumours and blood cancers, but is particularly focused on three main areas of innovation: Immuno-oncology – an approach to treating cancer that uses the body's immune system to help fight the cancer; targeted therapies - therapies targeting cellular signals that underpin phenomena, such as cell proliferation, apoptosis, angiogenesis, and the capacity for tissue invasion and metastatic spread; and apoptosis – the normal process of programmed cell death that occurs in multicellular organisms, but is disturbed in people with cancer. The three areas are emerging as key therapeutic fields for tackling cancer in a new and targeted way. "There is a very real and growing global need for therapies that account for the fact that every patient's immune system is unique," remarked Thomas. "We are progressing in our understanding of the tumour environment and developing of new therapies to restore normal cell deat
Open the catalog to page 1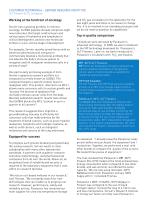 Working at the forefront of oncology Servier has a growing portfolio in immuno-oncology. Its R&D pipeline already comprises eight new molecules that target solid tumours and various types of leukaemia and lymphoma in clinical development, and two new molecular entities in a pre-clinical stage of development. For example, Servier recently joined forces with an American pharmaceutical company to commercially develop a monoclonal antibody that can educate the body's immune system to recognise and kill malignant melanoma cells in a variety of ways11. One particularly promising example of...
Open the catalog to page 2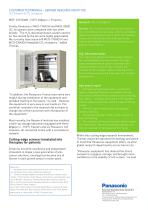 CUSTOMER TESTIMONIAL - SERVIER RESEARCH INSTITUTE ULT Freezers & CO2 Incubators MDF-C2156VAN -152°C Cryogenic Freezers. Finally, Panasonic's MCO-19AICUV and MCO-20AIC CO2 Incubators were compared with two other brands. "The H2O2 decontamination system and the air flux ducted by the fan were highly appreciated. We currently have around 40 MCO-170AICUV and MCO-230AICUV IncuSafe CO2 incubators," added Thomas. IncuSafe CO2 Incubators IncuSafe CO2 Incubators provide precise control of CO2 concentration and accurate, uniform, and highly responsive temperature control within the chamber. During...
Open the catalog to page 3
All PHC Europe B.V. / PHCbi catalogs and technical brochures

Archived catalogs

Compare up to 10 products