Catalogs

>

The IncuSafe Advantage - Sterilisation to meet every need
Catalog excerpts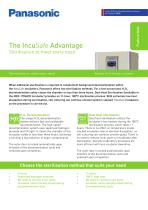 In April 2018, our Biomedical Business Brand will change to PHCbi PanasonicThe IncuSafe AdvantageSterilisation to meet every need Feature Note Sterilisation to meet every need When additional sterilisation is required to complement background decontamination within the IncuSafe Incubators, Panasonic offers two sterilisation methods. For a fast turnaround, H2O2 decontamination safely cleans the chamber in less than three hours. Dual Heat Sterilisation (available in the MCO-170AICD Incubator) provides an 11-hour, 180°C sterilisation process. With extremely low heat dissipation during sterilisation, cell culturing can continue uninterrupted in stacked IncuSafe Incubators as the procedure is carried out. The unique H2O2 decontamination system delivers fast and validatable decontamination. The high-speed decontamination system uses vaporised hydrogen peroxide and UV light. It cleans the chamber of the incubator safely in less than three hours, achieving a minimal 6 log reduction of major contaminants. The outer door is locked automatically upon initiation of the decontamination cycle and unlocked upon completion. Dual Heat Sterilisation Dual heat sterilisation utilises the incubator's two heaters during the 180°C sterilisation process, which takes 11 hours. There is no effect on temperature inside stacked incubators due to low heat dissipation, so cell culturing can continue uninterrupted. There is no need to remove inner parts or recalibrate after sterilisation, therefore laboratory processes are more efficient with less incubator downtime. The outer door is locked automatically upon initiation of the decontamination cycle and unlocked upon completion. • Vaporised hydrogen peroxide • No need to remove inner parts • Incubator electronically locked during decontamination cycle • No need to remove inner parts • Incubator electronically locked during decontamination cycle
Open the catalog to page 1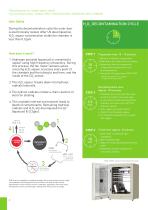 Sterilisation to meet every need User Safety During the decontamination cycle the outer door is electronically locked. After UV decomposition, H2O2 vapour concentration inside the chamber is less than 0.1ppm. 1. Hydrogen peroxide (aqueous) is converted to vapour using high frequency ultrasonics. During this process, the fan motor remains active, ensuring H2O2 vapour accesses every point of the chamber and the tubing to and from, and the inside of the CO2 sensor. 4. his unstable internal environment leads to T death of contaminants. Remaining hydroxyl radicals and H2O2 are decomposed to H2O...
Open the catalog to page 2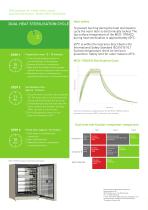 Dual Heat Sterilisation - Models: MCO-170AIC(UV)D DUAL HEAT STERILISATION CYCLE STEP 1 Preparation time: 10 - 15 minutes 1. Press the Sterilisation button to see instructions on the display _ 15 2. Remove all interior components MIN 3. Wipe down the inside of the incubator and the interior components with alcohol 4. Reposition interior components to specified locations for in situ sterilisation STEP 2 Sterilisation time: approx. 11 hours 1. Close the inner and outer door and press OK. The outer door is now electronically locked and the chamber will warm up. 2. Sterilisation process...
Open the catalog to page 3
All PHC Europe B.V. / PHCbi catalogs and technical brochures

Archived catalogs

Compare up to 10 products