Catalogs

>

IncuSafe CO2 Incubator MCO-80IC Product Sheet
Catalog excerpts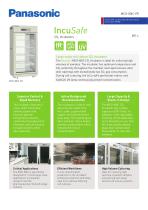 will change to PHCbi In April 2018, our Biomedical Business Brand will change to PHCbi Large-scale cell culture CO2 Incubator The IncuSafe MCO-80IC CO2 Incubator is ideal for culturing high volumes of samples. The incubator has optimum temperature and CO2 uniformity throughout the chamber and rapid recovery after door openings with exceptionally low CO2 gas consumption. During cell culturing, the inCu-saFe germicidal interior and MCO-80IC-PE Superior Control & Rapid Recovery SafeCell UV lamp continuously prevent contamination. Active Background Decontamination Large Capacity & Reach-in Design The incubator features a cross-shelf, horizontal airflow system that ensures optimal temperature and CO2 uniformity throughout the chamber, and contributes to rapid recovery after door-opening. The incubator's interior and plenums are made from inCu-saFe, a germicidal copper-enriched stainless steel alloy. The heated glass door and door frame heater prevent condensation which reduces the risk of contamination. The MCO-80IC CO2 Incubator has a large capacity of 851 litres. In addition, it has adjustable shelving, which adds even more flexibility in use. The full-view, double-paned glass door allows clear observation of cultured samples. Critical Applications Efficient Workflows High Volume Culturing The MCO-80IC is specifically designed for critical large scale applications in hospitals, research and the pharmaceutical / biotechnology industry. In situ contamination prevention in the incubator enhances protection and helps save time, without affecting cell cultures. Ideal for culturing high volumes of patient samples and working with large volume cell culture systems.
Open the catalog to page 1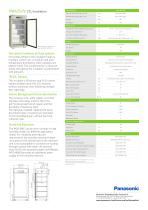 Horizontal laminar airflow system Horizontal airflow in the incubator helps to maintain uniform air-circulation and even temperature distribution when samples are placed inside. The conditioned air is directed evenly throughout the incubator via perforated side plenums. IR CO2 Sensor The incubator's IR sensor and P.I.D control system enables ultra-fast CO2 recovery without overshoot, even following multiple door-openings. Active Background Decontamination The exclusive inCu-saFe copper-enriched stainless steel alloy interior offers the germicidal properties of copper and the durability of...
Open the catalog to page 2
All PHC Europe B.V. / PHCbi catalogs and technical brochures

Archived catalogs

Compare up to 10 products