Catalogs

>

MCO-170AC-PE CO2 Incubators
Catalog excerpts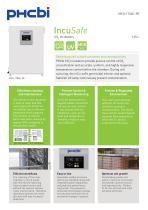 Optimising cell culture outcomes and reproducibility PHCbi CO2 Incubators provide precise control of CO2 c oncentration and accurate, uniform, and highly esponsive r temperature control within the chamber. During cell c ulturing, the inCu-saFe germicidal interior and optional SafeCell UV lamp continuously prevent contamination. Effortless cleaning and maintenance The interior of the incu ator b is easy to clean and has more space for dishes on the shelves due to the new inte rated shelf supports. g The number of interior parts have been reduced by approx. 80% compared to the previous model. Precise Control & Intelligent Monitoring Precise & Regulated Environment An OLED alphanumeric keypad allows convenient but secure user control. It can display internal conditions, such as CO2 level and temperature. Transfer of data is easy via a USB port. InCu-saFe and optional SafeCell UV lamp both function to prevent contamination. The Direct Heat and Air Jacket System regulate the temperature while the TC sensor controls the CO2 level. Efficient workflows Optimum cell growth The cleaning of the inner chamber is much easier with the interior featuring fully rounded corners and without the need to remove many nterior parts. Therefore i laboratory process are more efficient with less incubator downtime. Adjustable audible and visual alarms are standard, along with integrated system diagnostics and predictive performance super ision. The passwordv protected control panel provides security and minimizes risk of accidental changes in setpoint. Outstanding quality and perfor-mance for successful cell growth, optimal results and reproductivity. Perfect fit for the strictest and most sensitive protocols.
Open the catalog to page 1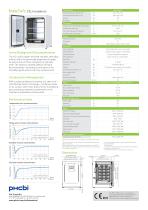 IncuSafe CO2 Incubators Active Background Decontamination The inCu-saFe copper-enriched stainless steel alloy interior offers the germicidal properties of copper as well as the corrosion resistance of stainless steel. The optional, isolated SafeCell UV lamp decontaminates circulating air and water in the humidifying pan without harming cultured cells. Condensation Management With a unique antibacterial coating, the 'dew stick' — controlled by Peltier technology— condenses water on its surface, which then drips into the humidifying pan, preventing unwanted condensation in the chamber and...
Open the catalog to page 2
All PHC Europe B.V. / PHCbi catalogs and technical brochures

Archived catalogs

Compare up to 10 products