Catalogs

>

MCO-170AICD IncuSafe CO2 Incubator
Catalog excerpts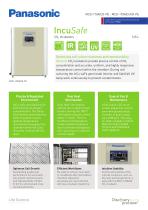 will change to PHCbi In April 2018, our Biomedical Business Brand will change to PHCbi Optimising cell culture outcomes and reproducibility IncuSafe CO2 Incubators provide precise control of CO2 concentration and accurate, uniform, and highly responsive temperature control within the chamber. During cell culturing the inCu-saFe germicidal interior and SafeCell UV lamp work continuously to prevent contamination. MCO-170AICD-PE Precise & Regulated Environment Dual Heat Sterilisation InCu-saFe and SafeCell UV both function to prevent contamination. The Direct Heat System and melamine foam insulation ensure optimal temperature distribution throughout the chamber whilst the Dual IR sensor controls the CO2 level. Dual Heat Sterilisation utilises the incubator's two heaters during the 180°C sterilisation process, which takes 11 hours. There is no effect on temperature inside stacked incubators due to low heat dissipation, cell culturing can continue uninterrupted. A full colour LCD touchscreen allows full control even with gloved hands. Transfer of data is easy via a USB port. The easyto-clean incubator interior features fully rounded corners and integrated shelf supports. Optimum Cell Growth Efficient Workflows Intuitive Usability Outstanding quality and performance for successful cell growth, optimal results and reproducibility. Perfect fit for the strictest and most sensitive protocols. No need to remove inner parts or recalibrate after sterilisation, therefore laboratory processes are more efficient with less incubator downtime. Control and visibility of the internal conditions, such as CO2 level and temperature, is easy with the MCO-170AICD CO2 incubator.
Open the catalog to page 1
Melamine Foam Insulation and Direct Heat Achieves accurate, uniform, and highly responsive temperature control within the chamber, providing exceptional uniformity and rapid recovery after door-openings. Dual IR CO2 Sensor The incubator's Dual IR sensor and P.I.D control enables ultra-fast CO2 recovery without overshoot, even following multiple door-openings. Active Background Decontamination The inCu-saFe copper-enriched stainless steel alloy interior offers the germicidal properties of copper and the durability of stainless steel. The optional, isolated, SafeCell UV lamp decontaminates...
Open the catalog to page 2
All PHC Europe B.V. / PHCbi catalogs and technical brochures

Archived catalogs

Compare up to 10 products