Catalogs

>

MCO-170M-PE Multigas Incubators
Catalog excerpts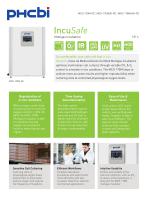 Multigas Incubators So comfortable, your cells will feel in vivo IncuSafe, Class IIa Medical Device Certified Multigas Incubators optimise mammalian cell cultures through variable CO2 & O2 control to simulate in vivo conditions. The MCO-170M helps to achieve more accurate results and higher reproducibility when culturing cells at controlled physiological oxygen levels. MCO-170M-PE Reproduction of in vivo conditions Time-Saving Decontamination With a unique, solid-state, zirconia sensor for precise oxygen control (1-18%; 2280%) the MCO-170M Multigas Incubator is able to reproduce the low oxygen concentrations found in many tissues and organs. The high-speed decontamination system uses vaporized hydrogen peroxide and UV light to safely clean the chamber in less than 3 hours, with at least a 6 log reduction of major contaminants. Sensitive Cell Culturing Efficient Workflows Intuitive Usability Culturing cells at physiological oxygen levels allows them to grow faster and live longer, and reduces the frequency of mutations. Complete laboratory procedures and experiments more efficiently with less incubator downtime. Ideal for commercial applications. Control and visibility of the internal conditions, such as CO2, O2 levels, and temperature, is easy with the MCO-170M multigas incubator. A full colour, LCD, touchscreen panel allows full control, even with gloved hands. Transfer of data is easy via a USB port. The easy-to-clean interior features fully rounded corners and integrated shelf supports.
Open the catalog to page 1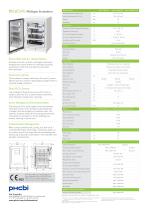 IncuSafe Multigas Incubators Direct Heat and Air Jacket System Achieves accurate, uniform, and highly responsive temperature control within the chamber, providing exceptional uniformity and rapid recovery after door-openings. Zirconia O2 Sensor The incubator's unique, solid-state, Zirconia O2 sensor delivers precise control of physiological oxygen levels to simulate in vivo conditions. Dual IR CO2Sensor The incubator's Dual IR sensor and PI.D control enables ultra-fast CO2 recovery without overshoot, even following multiple door-openings. Active Background Decontamination The exclusive...
Open the catalog to page 2
All PHC Europe B.V. / PHCbi catalogs and technical brochures

Archived catalogs

Compare up to 10 products