Catalogs

>

MCO-50M-PE Mulitgas Incubator
Catalog excerpts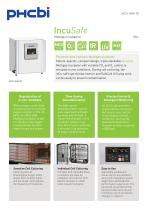 Multigas Incubators Personal-size compact Multigas Incubator Patient-specific, compact design, triple stackable IncuSafe Multigas Incubator with variable CO2 and O2 control to simulate in vivo conditions. During cell culturing, the inCu-saFe germicidal interior and SafeCell UV lamp work continuously to prevent contamination. MCO-50M-PE Reproduction of in vivo conditions Time-Saving Decontamination Precise Control & Intelligent Monitoring With a unique, solid-state zirconia sensor for precise oxygen control (1-18%; 2280%), the MCO-50M Multigas Incubator is able to reproduce low oxygen concentrations found in many tissues and organs. The high-speed decontamination system uses vaporised hydrogen peroxide and UV light. It cleans the chamber of the incubator safely in less than three hours, achieving a minimal 6 log reduction of major contaminants. An OLED alphanumeric keypad allows convenient but secure user control. It can display internal conditions, such as CO2 level and temperature. Transfer of data is easy via a USB port. Sensitive Cell Culturing Individual Cell Culturing Culturing cells at physiological oxygen levels allows them to grow faster and live longer, and reduces the frequency of mutations. Compact and stackable these incubators are ideal for individual cell cultures from patient samples or small scale research projects. Adjustable audible and v isual alarms are standard, along with integrated system diagnostics and predictive performance supervision. The password-protected control panel provides security and minimizes risk of accidental changes in setpoint.
Open the catalog to page 1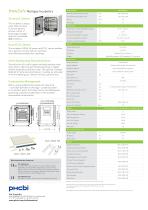 IncuSafe Multigas Incubators Zirconia O2 Sensor The incubator's unique, solid-state, Zirconia O2 sensor delivers precise control of physiological oxygen levels to simulate in vivo conditions. Dual IR CO2 Sensor The incubator's DUAL IR sensor and P.I.D. control enables ultra-fast CO2 recovery without overshoot, even following multiple door-openings. Active Background Decontamination The exclusive inCu-saFe copper-enriched stainless steel alloy interior offers the germicidal properties of copper and the durability of stainless steel. The optional, isolated, SafeCell UV lamp decontaminates...
Open the catalog to page 2
All PHC Europe B.V. / PHCbi catalogs and technical brochures

Archived catalogs

Compare up to 10 products