Catalogs

>

MCO-5M-PE Multigas Incubators
Catalog excerpts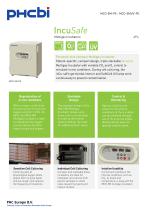 Multigas Incubators Personal-size compact Multigas Incubator Patient-specific, compact design, triple stackable IncuSafe Multigas Incubator with variable CO2 and O2 control to simulate in vivo conditions. During cell culturing, the inCu-saFe germicidal interior and SafeCell UV lamp work continuously to prevent contamination. MCO-5M-PE Reproduction of in vivo conditions Stackable Design Control & Monitoring With a unique, solid-state zirconia sensor for precise oxygen control (1-18%; 2280%), the MCO-5M Multigas Incubator is able to reproduce low oxygen concentrations found in many tissues and organs. The compact design of the MCO-5M Multigas Incubator allows up to three units to be stacked, increasing the interior volume without the need for additional floor space. Optimal visibility and control of the interior conditions of the incubator can be achieved through use of its accurate digital display and an easy-tooperate control-panel. Sensitive Cell Culturing Individual Cell Culturing Intuitive Usability Culturing cells at physiological oxygen levels allows them to grow faster and live longer, and reduces the frequency of mutations. Compact and stackable these incubators are ideal for individual cell cultures from patient samples or small scale research projects and hypoxic studies. Control and visibility of the internal conditions, such as CO2, O2 levels and temperature, is easy with the MCO-5M multigas incubator.
Open the catalog to page 1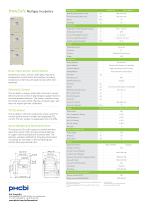 IncuSafe Multigas Incubators Model Number External Dimensions (W x D x H)1) Performance Temperature Control Range & Fluctuation O2 control range & Fluctuation4) Humidity Level & Fluctuation Control Temperature Sensor Stabilized Zirconia Sensor Construction Exterior Material Painted Steel Interior Material Stainless Steel Copper-Enriched Alloy Insulation Material Direct Heat and Air Jacket System Rigid polyurethane foamed-in place Heating Method Achieves accurate, uniform, and highly responsive temperature control within the chamber, providing exceptional uniformity and rapid recovery after...
Open the catalog to page 2
All PHC Europe B.V. / PHCbi catalogs and technical brochures

Archived catalogs

Compare up to 10 products