Catalogs

>

MDF-DU300H-PE PRO ECO ULT Freezer
Catalog excerpts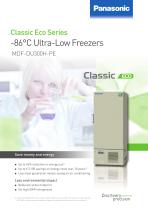 Save money and energy l l l Up to 45% reduction in energy use1) Up to € 3.100 savings on energy costs over 10 years 1) Less heat generation means saving on air conditioning Less environmental impact l l Reduced carbon footprint No high GWP refrigerants 1) Model MDF-DU300H (333 litres) compared to MDF-U3386S at set value -80°C, 23°C ambient, no load, 230V 50Hz, € 0.18/kWh. Actual energy use and savings will depend on operating conditions and price of electricity paid.
Open the catalog to page 1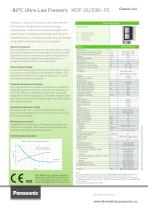 Natural refrigerants Natural hydrocarbon refrigerants provide more efficient cooling due to their high latent heat of evaporation. As a result, smaller compressors can be used leading to greater energy efficiency. With exceptionally low global warming potential natural refrigerants are also better for the environment. Heat exchanger design A new patent-pending heat exchanger provides greater surface area contact at critical points in the refrigeration system. This improves overall efficiency and reduces compressor running time for lower energy consumption. Panasonic designed refrigeration...
Open the catalog to page 2
All PHC Europe B.V. / PHCbi catalogs and technical brochures

Archived catalogs

Compare up to 10 products