Catalogs

>

MDF-DU702VH-PE Natural Refrigerants -86°C Upright Freezer
Catalog excerpts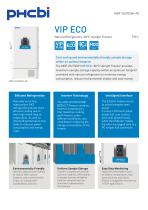 VIP ECO Natural Refrigerants -86°C Upright Freezer Efficient Refrigeration Cost-saving and environmentally friendly sample storage within an optimal footprint The MDF-DU702VH VIP ECO -86°C Upright Freezer provides maximum sample storage capacity within an optimum footprint combined with natural refrigerants to minimise energy consumption, reduce environmental impact and save money. Inverter Technology Intelligent Interface Naturally occurring hydrocarbon (HC) refrigerants provide more efficient cooling due to their high latent heat of evaporation. As well as improved performance this leads to reduced power consumption and energy costs. The MDF-DU702VH VIP ECO ULT Freezer contains Inverter Compressors that maximise cooling performance under different conditions, and contribute to reducing the energy consumption of the freezer. The EZlatch makes access to stored samples even easier. A colour LCD touch panel allows full user control, even with gloved hands, while the USB port makes transferring logged data to a PC simple and convenient. Environmentally Friendly Uniform Sample Storage Easy Data Monitoring Ideal for laboratories looking to reduce their carbon footprint and environmental impact to comply with sustainability policies. Inverter compressors provide optimum stability, while quality of design ensures reliability. Ideal for samples that are sensitive to temperature fluctuations. Important information such as freezer temperature, door opening times and alarm history is logged for monitoring in GLP applications.
Open the catalog to page 1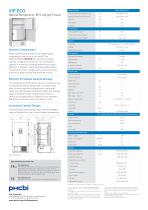 VIP ECONatural Refrigerants -86°C Upright Freezer Inverter Compressors While conventional freezers use single speed compressors which cycle on and off, the MDF-DU702VH VIP ECO ULT Freezer contains inverter compressors that can run at different speeds to maximise cooling performance under different conditions. Combined with hydrocarbon refrigerants, these compressors ensure the most efficient energy use and reduced heat output. Efficient & Flexible Sample Storage The combination of VIP PLUS vacuum insulation and an enhanced cabinet design with insulated outer door, ensures optimum...
Open the catalog to page 2
All PHC Europe B.V. / PHCbi catalogs and technical brochures

Archived catalogs

Compare up to 10 products