Catalogs

>

MDF-U731M-PE -30°C Freezer
Catalog excerpts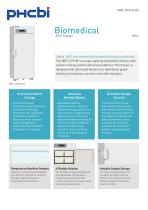 Stable -30°C environment with extensive storage possibilities The MDF-U731M is a large-capacity, biomedical freezer, with a direct cooling system and manual defrost. This freezer is designed with optimised features for laboratory-grade freezing of enzymes, vaccines, and other biologics. Precise & Uniform Storage A microprocessor controller ensures precise and uniform storage temperatures regardless of ambient conditions. Manual defrost provides stable temperature control without transient temperature increases. Extensive Storage Options Adjustable shelving accommodates a range of different storage options for a wide number of applications. Optional plastic containers and extra shelves are ideal for storing a variety of different types of samples while inventory racking systems can be used for storage of cryoboxes. Excellent Sample Security A comprehensive visual and audible alarm system with remote alarm contacts ensures users are aware of any abnormalities and can take appropriate actions. A keyed door lock with provision for an optional padlock ensures sample security. Temperature Sensitive Samples Optimum uniformity and stability are ideal for storage of samples that are highly sensitive to temperature fluctuations. Valuable Sample Storage An ideal storage solution for valuable samples such as those in the pharmaceutical, biotechnology and medical research fields.
Open the catalog to page 1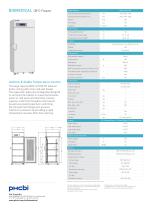 Uniform & Stable Temperature Control The large capacity MDF-U731M-PE features direct cooling with a fuff cold waff design. The evaporator pipes are strategically designed to surround the cabinet in a way that prevents warm or cofd spots and therefore ensures superior uniformity throughout the freezer. As weff as providing optimum uniformity, the cofd waff technofogy afso ensures maximum protection by providing a rapid temperature recovery after door opening. pHcbi PHC Europe B.V. Nijverheidsweg 120 | 4879 AZ Etten-Leur | Netherlands T: +31 (0) 76 543 3839 | F: +31 (0) 76 541 3732...
Open the catalog to page 2
All PHC Europe B.V. / PHCbi catalogs and technical brochures

Archived catalogs

Compare up to 10 products