Catalogs

>

MPR-1014R-PE
Catalog excerpts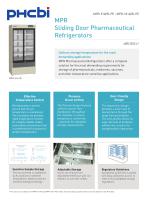 MPR Sliding Door Pharmaceutical Refrigerators 489/1033 L* Uniform storage temperature for the most demanding applications MPR Pharmaceutical Refrigerators offer a complete solution for the most demanding requirements for s torage of pharmaceuticals, medicines, vaccines, and other temperature-sensitive applications. MPR-514-PE User-friendly Design Effective Temperature Control Plenums Direct Airflow Microprocessor controls ensure that the set temperature is maintained. The circulation fan provides rapid temperature recovery for a highly reliable, stable, preservation environment that is unaffected by fluctuations in ambient temperature. The Plenum design f atures e uniform cold air flow distribution throughout the chamber to ensure temperature uniformity - essential for validated storage requirements. The ergonomic design provides a clear view of stored items through the large framed windows. The slim profile allows for easy retrieval of products, without the concern for swinging door clearances. Sensitive Sample Storage Adjustable Storage Regulatory Guidelines The environment is unaffected by fluctuations in ambient temperature, ideally suited for sensitive biological storage. Users can choose from adjustable shelving or pull-out drawers to suit their needs. Exceptional uniformity is paired with easy calibration access to meet critical validated storage regulations. Others Auto Defrost Refrigerator Ambient Temp. Temp. Rise During Defrost Cycle PHCbi Cycle Defrost 40 35 30 Ambient Temp. Inside Temp. * This volume is related to the MPR-514-PE and MPR-1014-PE models. See the product specifications for further details on the R models.
Open the catalog to page 1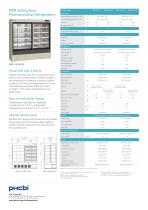 Visual LED Alarm Alerts Audible and flashing LED visual alarms alert users to the unlikely event of either a high or low temperature condition to protect stored products. An over-shooting prevention circuit automatically switches off the fan motor or heater, if the inside temperature rises abnormally. Easy to read digital display Temperature readings are displayed in gradients of 1°C for configurable temperatures ranging from 2° to 14°C. Cabinet Construction Window door design with protective film allows easy viewing while providing safety against shattering and protection from heat and UV....
Open the catalog to page 2
All PHC Europe B.V. / PHCbi catalogs and technical brochures

Archived catalogs

Compare up to 10 products