Catalogs

>

MPR-N450FH-PE Pharmaceutical Refrigerator with Freezer
Catalog excerpts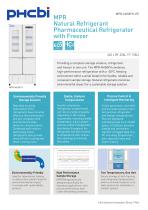 MPR Natural Refrigerant Pharmaceutical Refrigerator with Freezer compressor 462 L (R: 326L / F: 136L) Providing a complete storage solution; refrigerator and freezer in one unit. The MPR-N450FH combines high-­ erformance ­ efrigeration with a -30°C freezing p r environment ­ ithin a small footprint for flexible, reliable and w c ­ onvenient sample storage. Natural refrigerants minimise ­ e ­ nvironmental impact for a sustainable storage solution. Stable, Uniform ­Temperatures Precise Control & ­Intelligent Monitoring Inverter compressor (­refrigerator compartment) can run at a range of speeds depending on the cooling require­­ ment, ensuring a stable temperature. A duct system ensures uniform temperature ­ distribution through­ ut the o refrigerator and fast recovery of ­ emperature after routine t door openings to minimise fluctuation. A microprocessor controller and accurate sensors main­ tain precise refrigerator and freezer temperatures that are displayed simultaneously on an OLED panel. A USB port provides simple and convenient transfer of logged data to a PC including temperature, door opening times and alarm history. Environmentally ­Friendly Storage Solution Naturally occuring hydrocarbon (HC) refrigerants have minimal effect on the environment and are ­ ompliant with c environ­mental legis­ lation for ­ limate control. c Combined with inverter technology, these refrigerants also provide more efficient cooling and lower running costs. Temp (°C) Temperature performance: refrigerator inner chamber (range from 0 - 10) Environmentally Friendly Ideal for laboratories looking to reduce their carbon footprint and environmental impact to comply with sustainability policies. High Performance Sample Storage MPR Refrigerators are designed specifically for laboratory applications, with precise performance even under demanding conditions. Two Temperatures, One Unit Secure storage at both freezing and refrigerated temperatures, within a minimal footprint, is an ideal solution for installation in smaller spaced.
Open the catalog to page 1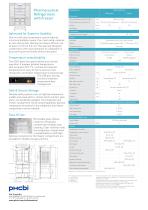 Pharmaceutical Refrigerators with Freezer Optimized for Superior Usability One unit with dual temperature control requires minimal installation space. Four-door design reduces air loss during door opening and makes efficient use of space in front of the unit. Two specially designed compressors offer quiet operation for installation in busy working environments without disruption. Temperature controllability The OLED panel has good visibility and intuitive operation. It displays detailed temperatures with increment of 0.1 °C, minimal and maximal temperature for every 24 hours and can...
Open the catalog to page 2
All PHC Europe B.V. / PHCbi catalogs and technical brochures

Archived catalogs

Compare up to 10 products