Catalogs

>

Pharmaceutical Refrigerator with Freezer MPR-715F-PE
Catalog excerpts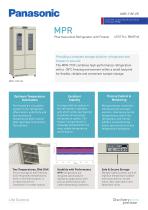 will change to PHCbi In April 2018, our Biomedical Business Brand will change to PHCbi Pharmaceutical Refrigerator with Freezer Providing a complete storage solution; refrigerator and freezer in one unit The MPR-715F combines high-performance refrigeration with a -30°C freezing environment within a small footprint for flexible, reliable and convenient sample storage. MPR-715F-PE Optimum Temperature Distribution Excellent Stability Fan-forced air circulation system in the refrigerator offers better uniformity and fast recovery of temperature after routine door openings to minimise fluctuations. A unique defrost system in the refrigerator operates only short cycles as required to prevent unnecessary temperature spikes. The freezer compartment is manually defrosted for the most stable temperature performance. Precise Control & Monitoring Microprocessor controller, combined with accurate sensors, maintains precise temperatures within the refrigerator and freezer, whilst a comprehensive alarm system alerts of any temperature deviations. Usability with Performance Safe & Secure Storage Secure storage at both freezing and refrigerated temperatures, within a minimal footprint, is an ideal solution for installation in smaller spaces. MPR refrigerators are designed specifically for laboratory applications with precise performance even under demanding conditions. Multiple safety systems such as high/low temperature audible and visual alarms, remote alarm, door open alarm and keyed door locks.
Open the catalog to page 1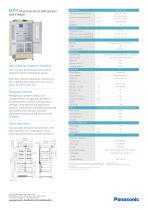 Optimized for Superior Usability One unit with dual temperature control requires minimal installation space. Four-door design reduces air loss during dooropening and makes efficient use of space in front of the unit. Panasonic Design Refrigeration system s within both compartments are specially designe d for demanding scientific and laboratory storage. Compressors are application specific, components are carefully matched and systems are laid out to ensure high-performance cooling with ultimate reliability. Quiet Operation Two specially designed compressors offer quiet operation for...
Open the catalog to page 2
All PHC Europe B.V. / PHCbi catalogs and technical brochures

Archived catalogs

Compare up to 10 products