Catalogs

>

VIP ECO ULT Freezers Customer Testimonial - Towards Effective Treatments For Sepsis, Radboudumc Nijmegen, NL
VIP ECO ULT Freezers Customer Testimonial - Towards Effective Treatments For Sepsis, Radboudumc Nijmegen, NL


3

Pages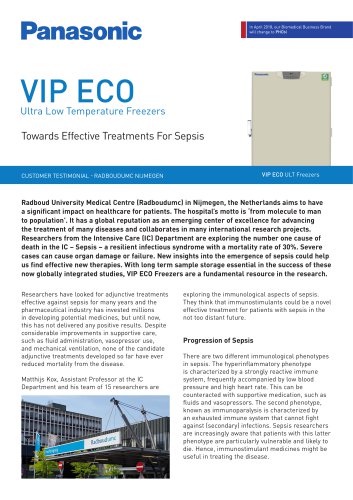 Catalog excerpts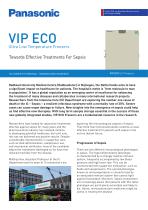 In April 2018, our Biomedical Business Brand will change to PHCbi Ultra Low Temperature Freezers Towards Effective Treatments For Sepsis CUSTOMER TESTIMONIAL - RADBOUDUMC NIJMEGEN Radboud University Medical Centre (Radboudumc) in Nijmegen, the Netherlands aims to have a significant impact on healthcare for patients. The hospital's motto is 'from molecule to man to population'. It has a global reputation as an emerging center of excellence for advancing the treatment of many diseases and collaborates in many international research projects. Researchers from the Intensive Care (IC) Department are exploring the number one cause of death in the IC – Sepsis – a resilient infectious syndrome with a mortality rate of 30%. Severe cases can cause organ damage or failure. New insights into the emergence of sepsis could help us find effective new therapies. With long term sample storage essential in the success of these now globally integrated studies, VIP ECO Freezers are a fundamental resource in the research. Researchers have looked for adjunctive treatments effective against sepsis for many years and the pharmaceutical industry has invested millions in developing potential medicines, but until now, this has not delivered any positive results. Despite considerable improvements in supportive care, such as fluid administration, vasopressor use, and mechanical ventilation, none of the candidate adjunctive treatments developed so far have ever reduced mortality from the disease. Matthijs Kox, Assistant Professor at the IC Department and his team of 15 researchers are exploring the immunological aspects of sepsis. They think that immunostimulants could be a novel effective treatment for patients with sepsis in the not too distant future. Progression of Sepsis There are two different immunological phenotypes in sepsis. The hyperinflammatory phenotype is characterized by a strongly reactive immune system, frequently accompanied by low blood pressure and high heart rate. This can be counteracted with supportive medication, such as fluids and vasopressors. The second phenotype, known as immunoparalysis is characterized by an exhausted immune system that cannot fight against (secondary) infections. Sepsis researchers are increasingly aware that patients with this latter phenotype are particularly vulnerable and likely to die. Hence, immunostimulant medicines might be useful in treating the d
Open the catalog to page 1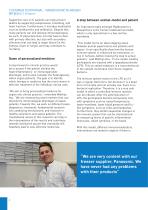 Supportive care in IC patients can help prevent deaths by supporting vasopression, breathing, and heart function. Furthermore, it includes medication such as antidiuretics and antibiotics. Despite this, many patients can still develop immunoparalysis. As such, IC physicians then not only have to deal with primary infection, but also with secondary infections that can lead to organ failure (in the kidneys, heart or lungs), and may contribute to mortality. Dawn of personalized medicine A step forward in clinical practice would be to assess if the patient exhibits the hyperinflammatory- or...
Open the catalog to page 2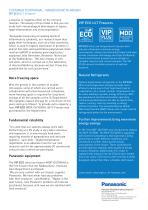 a positive or negative effect on the immune reaction. The beauty of this model is that you can study both immunological phenotypes of sepsis, hyperinflammation and immunoparalysis." "Alongside measuring circulating levels of inflammatory cytokines, our research team also apply other techniques, such as a flow cytometry, which is used to explore expression of proteins in and on live cells and quantitative polymerase chain reaction (qPCR) to evaluate gene expression," explained Jelle Gerretsen, Research Technician at the Radboudumc. "We also employ in vitro cell work, which is carried out in...
Open the catalog to page 3
All PHC Europe B.V. / PHCbi catalogs and technical brochures

Archived catalogs

Compare up to 10 products