Catalogs

>

Phenox

>

HPC
Catalog excerpts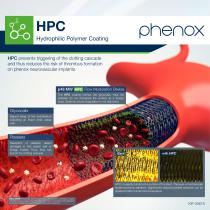 Hydrophilic Polymer Coating HPC prevents triggering of the clotting cascade and thus reduces the risk of thrombus formation on phenox neurovascular implants. p48 MW HPC Flow Modulation Device The HPC coating mimics the glycocalix, thus the platelets do not recognize the surface as a foreign body. Systemic blood coagulation is not disturbed. Glycocalix Natural lining of the endothelium indicating an intact inner vessel wall. Platelets Receptors of platelets detect damages in the vessel wall or foreign bodies. Thus, they can launch the clotting cascade. HPC covalently binds to the surface of the stent. The layer is mechanically stable and firmly adherent. Significantly reduced platelet adhesion can be observed after human blood exposure. 1 Data on File DISCLAIMER: Please note, that the above shown 3D Illustration is inteded to visualize a simplified representation of the HPC effect. Thus, blood components in this illlustration are visually simplified and may not represent actual size proportions.
Open the catalog to page 1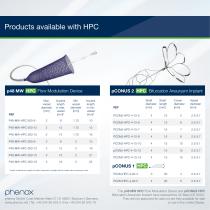 Products available with HPC p48 MW HPC Flow Modulation Device Implant length in max. vessel [mm]* pCONUS 2 HPC Bifurcation Aneurysm Implant Implant length in min. vessel [mm]* *Length is defined as: length of implant measured in straight silicone vessel without aneurysm neck. Shaft Shaft diameter length [mm] [mm] phenox GmbH | Lise-Meitner-Allee 31 | D-44801 Bochum | Germany www.phenox.net | Tel. +49 234 36 919 0 | Fax +49 234 36 919 19 The p48 MW HPC Flow Modulation Device and pCONUS HPC Bifurcation Aneurysm Implant have received the CE Mark (CE 0297). They are not approved for sale nor...
Open the catalog to page 2
All Phenox catalogs and technical brochures

Compare up to 10 products