Catalogs

>

Pride

>

Quantum Accessories
Catalog excerpts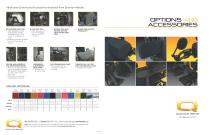 Articulating Vent Tray • Depth-adjustable vent tray accommodates portable ventilators up to 14.5" W x 15.5" D, weighing up to 40 lbs. • Designed to keep the ventilator level as the backrest tilts or reclines Recline Back Interface for After-Market Backs • Allows for an unprecedented level of compatibility between TRU-Balance® Power Recline and most after-market back rests • Retains full functionality, including shear reduction Bi-PAP Vent Tray • Depth-adjustable vent tray accommodates sizes up to 9.5" W x 13.25" D Endomorph & Mesomorph Back Canes • Provides 2" or 4" of inset or offset Battery Tray with Battery Box for Articulating Vent Tray Q6000Z Vent Battery Storage Kit Flip-forward Back Canes • Not available with cane mounted or cantilever armrests Therafin Full Lap Tray with Controller Cut-out • Half trays also available COLOR OPTIONS Candy Apple Red Viper Blue Onyx Black Sunburst Orange Metallic Blue Metallic Black Metallic Silver Pearl Pink True Blue Orion Yellow Emerald Green Sapphire Blue NOTE: Not all options and accessories are compatible with every power base. Please consult product order forms for exclusions. Order forms can be downloaded at www.quantumclinician.com.
Open the catalog to page 1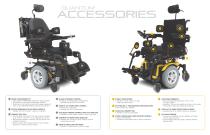 1 Transit Securement Kit • Crash-tested to ANSI/RESNA wheelchair safety standards • Occupied and unoccupied configurations available • Please refer to the Transit Securement Package supplement (part number INFMANU3658) for additional information 2 Stealth Removable Pelvic/Thigh Laterals • Available with short (shown), medium or long pads 3 Compact Vent Tray • Accommodates Pulmonetics LTV-style compact ventilators up to 3.25"D x 10.5"W x 13.5"L weighing up to 20 lbs. • Rear window provides full visibility and easy access to the ventilator's functions • Clearly marked, quick-release latches...
Open the catalog to page 2
All Pride catalogs and technical brochures

Archived catalogs
Compare up to 10 products