Catalogs

>

Pride

>

Quantum Q6 Series
Catalog excerpts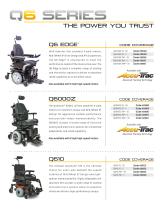 the Q6 Edge ® is engineered to meet the performance needs of the most active user. The With features like standard 4-pole motors, Mid-Wheel 6 ® Drive Design and ATX Suspension, Q6 Edge accepts a complete range of seating Available with and electronics options to deliver exceptional rehab capability at an excellent value. Also available with 6 mph high-speed motors Design for aggressive outdoor performance and precision indoor maneuverability. The The Quantum® 6000Z utilizes powerful 4-pole motors for maximum torque and Mid-Wheel 6® Q6000Z accepts a broad range of exclusive Available with seating and electronics options for unmatched adaptability and rehab capability. Also available with 8 mph high-speed motors The compact Quantum ® 610 is the ultimate choice for users who demand the superb stability of Mid-Wheel 6 ® Design and tightquarter maneuverability. Highly adaptable, the Quantum 610 accepts a wide range of seating and electronics options while its powerful drivetrain delivers high-performance torque.
Open the catalog to page 1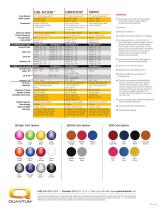 Drive Wheels OMNI-Casters Suspension Maximum Speed Ground Clearance Turning Radius Overall Size ALLOWABLE SEAT SIZES 14" solid or pneumatic Front: 6" solid Rear: 6" solid Pediatric Tilt Drivetrain Batteries Range per Charge Battery Charger Available Electronics Weight Capacity Base Weight Battery Weight Warranty 10" solid or pneumatic 2 Front: 5" solid Rear: 6" solid 1) Range and speed vary with user weight, terrain type, battery charge, battery condition and tire pressure. Up to 5 mph / Up to 6 mph 2 3" at center of frame 20" Length: 35.5" 13 Width: 24" TRU-Balance® 2 TRU-Balance® 3 Up to...
Open the catalog to page 2
All Pride catalogs and technical brochures

Archived catalogs
Compare up to 10 products