Catalogs

>

PROHS

>

BEDPAN WASHER DESINFECTOR
Catalog excerpts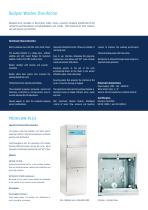 Bedpan Washer Disinfector Designed to be installed in dirty/clean utility rooms, ensuring complete disinfection of the containers used by patients, including bedpans and urinals. They stand out for their compact size and easy to use interface. Technical Characteristics Built in stainless steel AISI304 with matte finish. The washing chamber is a single piece, without welding and with round flanges for maximum hygiene, made in AISI 304 stainless steel. Washer chamber with thermal and acoustic Double safety door system that prevents the opening during the cycle. Tilting frontal door opening...
Open the catalog to page 2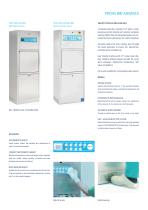 PROHS BW-ADVANCE PROHS BW-ADVANCE (With Manual Door) (With Automatic Door) Specific Technical Characteristics 14 nozzles inside the chamber, 8 of which rotate, ensuring a perfect internal and external recipients washing. Water flow and spraying pressure are mo- nitored by the microprocessor for a perfect washing. The water used in the final cooling, pass through the steam generator to ensure the disinfection, minimizing the microbial risk. User friendly interface with 3.5" colour screen dis- play showing different phases duringn the cycle, alarm messages, disinfection temperature, "AO"...
Open the catalog to page 3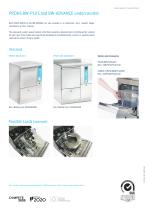 THINK HEALTH THINK PROHS PROHS BW-PLUS and BW-ADVANCE undercounter Both PROHS BW-PLUS and BW-ADVANCE are also available in an alternative more compact design, maintaining all their features. This represents a wider range of options to the final customers, allowing them to find the perfect solution for each case. These models were specifically developed to be installed under a bench or washing station reducing the amount of space needed. PROHS BW-PLUS C PROHS BW-ADVANCE C Options and Accessories Possible Loads (example)
Open the catalog to page 4
All PROHS catalogs and technical brochures

Compare up to 10 products