Catalogs

>

PROHS

>

INSTRUMENTS WASHER DISINFECTOR
Catalog excerpts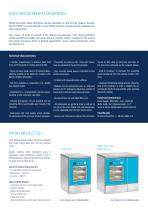 PROHS instrument washer disinfector has been developed to meet the high hygiene Standard EN-ISO 15883-1/2, produced with an user friendly interface and easy to meet installation and space requirements. They answer all kinds of requests of the medical and laboratory field offering different models and different models and a large choice of washing trolleys, suitable for the several instruments and glasses found in hospital departments, clinics, central sterilization rooms and laboratories. - Chamber manufactured in stainless steel AISI - The printer is located on the "clean side" where...
Open the catalog to page 2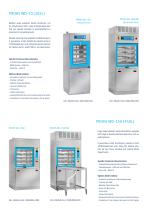 Medium range automatic washer disinfector, can be manufactured with single or double glass door that can operate manually or automatically for a maximum of six washing levels. Despite requiring only moderate installation space, it guarantees a high disinfection capacity of up to 12 DIN baskets per cycle, being the optimal solution for medium clinics, small CSSD or big laboratories. PROHS WD-10D (Manual Door) PROHS WD-10AD SC (Automatic Door) Specific Technical Characteristics - 2 standard dosing pumps (acid and alkaline) - Washing pump - 626L/min - Drying fan - 150m!/h Options (Both models)...
Open the catalog to page 3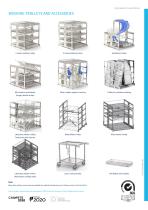 THINK HEALTH THINK PROHS WASHING TROLLEYS AND ACCESSORIES Mini invasive and tubular Surgery washer trolley Laboratory washer trolley Mixed levels configuration DIN Basket with handles Note Many other trolleys and accessories available for medical and laboratory use. Please contact us for the full list. Due to product improvement and development, PROHS reserves the right to make changes without notice.
Open the catalog to page 4
All PROHS catalogs and technical brochures

Compare up to 10 products