Catalogs

>

Radcal

>

VacuDAP
Catalog excerpts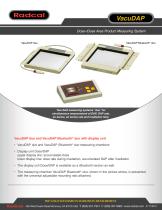 VacuDAP Dose-/Dose Area Product Measuring System VacuDAP duo Two-field measuring systems "duo" for simultaneous measurement of DAP, DAP rate, air kerma, air kerma rate and irradiation time. VacuDAP duo and VacuDAP Bluetooth® duo with display unit • VacuDAP duo and VacuDAP Bluetooth® duo measuring chambers • Display unit Dose/DAP upper display line: accumulated dose lower display line: dose rate during irradiation, accumulated DAP after irradiation • The display unit Dose/DAP is available as a Bluetooth version as well. • The measuring chamber VacuDAP Bluetooth® duo, shown in the picture above, is presented with the universal adjustable mounting rails attached. THE GOLD STANDARD IN RADIATION MEASUREMENT 426 West Duarte Road Monrovia, CA 91016 USA T: (626) 357-7921 F: (626) 357-8863 www.radcal.
Open the catalog to page 1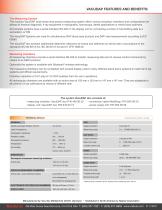 VACUDAP FEATURES AND BENEFITS: The Measuring System The modular VacuDAP dose-/dose area product measuring system offers various ionization chambers and configurations for almost all medical diagnostic X-ray equipment in radiography, fluoroscopy, dental applications or whole body scanners. All complete systems have a serial interface RS 232 on the display unit for connecting a printer or transmitting data to a workstation or RIS. The VacuDAP Systems are used for simultaneous DAP (dose area product) and DAP rate measurements according to IEC 60580. The VacuDAP duo systems additionally...
Open the catalog to page 2
All Radcal catalogs and technical brochures

Compare up to 10 products