Catalogs

>

Redax

>

KARDIA SPIRAL - A fluted drain designed for cardio-thoracic drainage
Catalog excerpts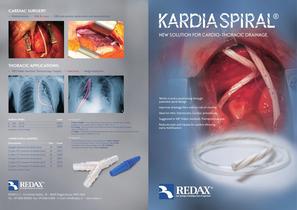 CARDIAC SURGERY: – Ministernotomy – CABG By-pass – CABG and valvular replacement and reconstruction NEW SOLUTION FOR CARDIO-THORACIC DRAINAGE. THORACIC APPLICATIONS: – VATS Video-Assisted-Thoracoscopy-Surgery – Lobectomy – Wedge Resection Works in every positioning through patented spiral design. Improves drainage flow with no risk of clotting. Ideal for Mini-Sternotomy Cardiac procedures. KARDIA SPIRAL Code 25019 25024 6 mm - CH 19 8 mm - CH 24 Clinical support: - - - PACKAGING: 10 PIECES PER BOX Photography by: CONNECTORS & ADAPTERS Description Straight Connector for Kardia Spiral Y-piece 3/8' Connector for Kardia Spiral Y-piece 1/4' Connector for Kardia Spiral Straight Connector for Kardia Spiral Y-piece 3/8' Connector for Kardia Spiral Y-piece 1/4' Connector for Kardia Spiral A. Terzi, F. Calabrò - The use of flexible spiral drains after non-cardiac thoracic surgery European Journal of Cardio-Thoracic Surgery, 27 (2005) 134-137. R. A. Lancey - The use of smaller, more flexible chest drains following open heart surgery Chest, 119 (2001) 19-24. J. A. Obney - A method for mediastinal drainage after cardiac procedures using small silastic drains Ann. Thorac Surgery 70 (2000) 1109-1010. Size Code 24 24 24 19 19 19 10507 10517 10505 10527 10518 10513 - - - - University Hospital of Verona, Thoracic Department (Prof. F. Calabrò) S. Croce e Carle Hospital of Cuneo, Thoracic Department (Dr. A. Terzi) Arcispedale S. Maria Nuova of Reggio Emilia (Dr. F. Biolchini) San Filippo Neri Hospital of Roma (Dr. A. Costantino) PACKAGING: 50 PIECES PER BOX REDAX S.r.l. Via Galileo Galilei, 18 - 46025 Poggio Rusco (MN) ITALY Tel. +39 0386 830582 Fax +39 0386 51898 - E-mail: info@redax.it - www.redax.it Suggested in VAT Video-Assisted-Thoracoscopy use. Reduces pain and trauma for patient allowing early mobilization.
Open the catalog to page 1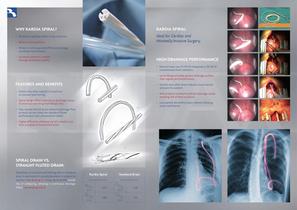 WHY KARDIA SPIRAL? KARDIA SPIRAL: – Maintains capillary effect in any situation. Ideal for Cardiac and Minimally Invasive Surgery. – Works in every position. – Allows a continuous and effective drainage avoiding tissue trauma. – Increases patient's comfort through atraumatic profile. HIGH DRAINAGE PERFORMANCE – Permits lower size 19/24 CH compared to 28/36 CH conventional chest catheters. – Spiral design provides greater drainage surface than regular perforated drains. 1. FEATURES AND BENEFITS – Smaller and softer drain reduces tissue trauma and pain for patient. – Drains also when subject...
Open the catalog to page 2
All Redax catalogs and technical brochures

Compare up to 10 products