Catalogs

>

Redax

>

Silicone Drainage System
Catalog excerpts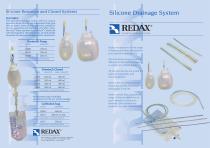 silicone drainage gb 2012 1-02-2012 12:16 Pagina 1 C Silicone Reservoir and Closed Systems Silicone Drainage System FEATURES Post-operative drainage system with low vacuum aspiration level, ideal for use with Jackson-Pratt type silicone drains. Clear silicone reservoirs available in variuos capacities and featuring anti-reflux valve. Drentech® Pump standard and Drentech® Closed with collection bag 200 & 400 ml reservoirs are with double connector for allowing multiple drains attachment. from experience, new drainage technologies Drentech Pump CODE Redax manufactures a wide range of high quality drains designed for post-operative applications. Silicone drains are developed in different profile and fenestation to satisfy any clinical needs. Drentech Closed CODE Replacement bag is available separately from the set, sterile package from experience, new drainage technologies Via G.Galilei, 18 - 46025 Poggio Rusco (MN) Italy Tel.: +39 0386 830582 - Fax +39 0386 51898 e-mail: info@redax.it - www.redax.it All silicone devices are tested for haemocompatibility and biocompatibility. Drain tubes are designed with atraumatic profile and feature radiopaque x-ray line. Redax realizes also a complete range of silicone reservoirs for post-operative low vacuum drainage. Silicone bulb are available also with collection bag.
Open the catalog to page 1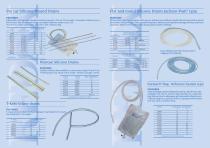 silicone drainage gb 2012 1-02-2012 12:16 Pagina 2 C Pre cut Silicone Wound Drains Flat and round Silicone Drains Jackson-Pratt® type High quality silicone drain designed mainly for gravity • Pre-cut 50 cm length • Atraumatic elliptical eyes • Radiopaque line along entire length and depth reference marks every 2 cm. Available in a wide range of size also with 2 liter collection bag. Silicone drains like Drains Jackson-Pratt type are realized in two different profile: flat and round with a special fenestration of 20 cm length. Tube is totally transparent, ideal for post-operative drainage...
Open the catalog to page 2
All Redax catalogs and technical brochures

Compare up to 10 products