Catalogs

>

Redax

>

Thoracic Catheters
Catalog excerpts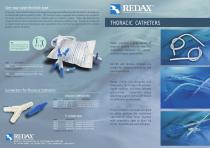 One-way valve Heimlich type It is a non-return valve for thoracic drainage preventing air backflow towards the patient; drainage can be maintened bypassing need to clamp. The Heimlich valve is equipped with a double conic connector for easier connection to the thoracic catheter and to a collection system. Redax has developed its range of Heimlich valves available with/whitout pre-connected collection bag. The bag, provided with an open/closed type vent allowing a slow evacuation of air, and tap has been created for a better patient'sthoracic comfort. code description REDAX from experience, new drainage technologies REDAX S.r.l. Via Galileo Galilei, 18 - 46025 Poggio Rusco (MN) ITALy Tel. +39 0386 830582 - Fax +39 0386 51898 - E-mail: info@redax.it - www.redax.it THORACIC CATHETERS Redax proposes a large variety of superior quality silicone and PVC disposable catheters for cardio-thoracic surgery applications. All PVC and silicone catheters are tested for haemocompatibility and biocompatibility. Redax drains are designed with atraumatic tip for ease of insertion. Depth markings facilitate catheter placement. Complete range providing surgeon with a wide choice for different patients needs. Trocar Catheters have been designed to safely perform the traditional approach to chest drain insertion with atraumatic open or blunt tip trocar. Available also with sharp tip.
Open the catalog to page 1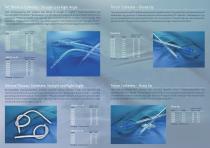 Trocar Catheters - Closed tip PVC Thoracic Catheters : Straight and Right Angle Clear thermosensitive PVC catheter and choice of straight or angled • Haemocompatible and biocompatible PVC catheter* Radiopaque X-ray line aids in accurate positioningand depth marks at 2 cm increments • Elliptical smooth side eyes and open distal tip minimize occlusion and encourage fluid evacuation • Tapered blue connector cap can be cropped to form funnel connector • Equipped with bi-conical adapterfor connection to chest drainage systems *Comprehensive range of sizes from 16 to 40 CH. Clearthermosensitive...
Open the catalog to page 2
All Redax catalogs and technical brochures

Compare up to 10 products